June 14-20, 2006
home | the papers | metro silicon valley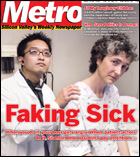 Feature: Patient-Actors
Acting sick is all the rage in medical schools. As hypochondria goes Hollywood, our writer gets opening-day jitters in Stanford's patient-actor program.

News: Mistrusting the DFCS
According to a $400 million lawsuit, some kids didn't exist—even though the county was getting money for them.
The Fly: 06.14.06
Medical marijuana activist Jim Lohse's race for the City Council should prove interesting.

Silicon Alleys: The Lettrists
They would have loved San Jose in the 21st century.
Technology News: Laptops for Dolphins
Let's decode dolphin syntax so we can figure out what our slippery mammal pals want.
Car Culture: Biodiesel
We use biofuel, but we don't necessarily think it's the answer—especially with gold spray-painted accents.
Sports News: World Cup
The Czech Republic whups the U.S.

Movie Review: 'Saturday Night Fever'
Has it really been 30 years? San Jose's Cinema San Pedro brings back the disco strut of 'Fever.'
Movie Review: 'The Lake House'
Science fiction takes a back seat to sheer, delicate romance in this remake of the Korean film 'Siworae.'
Movie Review: 'The King'
Gael García Bernal's latest disses the Bible Belt.
Cult Leader: 'Serenity' Daze
Joss Whedon worldwide; plus, a report from the 'Monster Squad' mash.
Movie Review: This Week's Revivals
'Harold and Maude' and more.

MORE MOVIE REVIEWS

MOVIE TIMES

Music Interview/Preview: Guru
The former Gang Starr frontman honors the past in order to move forward.
Music Interview: DJ Mike Relm
A portrait of a DJ as changing man.

MORE MUSIC AND NIGHTLIFE

MUSIC AND CLUBS LISTINGS

MUSIC AND NIGHTLIFE CALENDAR PICKS

Restaurant Review: Lupretta's Delicatessen
Residents rallied to block a Subway and support mom-and-pop shops. Lupretta's is the kind of place they were fighting for.
Live Feed: Cupertino Village
This shopping center offers a jackpot of pan-Asian dining and Asian specialty stores.
5 Things to Love: Top Local Wineries
Not all of the Golden State's best wineries are in the Napa Valley.

BOOK A RESTAURANT RESERVATION

FIND A RESTAURANT REVIEW

TV Review: 'Deadwood'
David Milch's foul-mouthed western, on DVD for a second season and HBO for a third, tells a tale of organized crime in the Old West every bit as tangled as 'The Sopranos.'
Stage Review: 'Hairspray'
American Musical Theatre of San Jose piles high the fun with this stage version of the John Waters flick.
Book Review: 'Ludmilla's Broken English'
By DBC Pierre.
Book Review: 'All Things, All at Once: New and Selected Stories'
By Lee K. Abbott.
Book Review: 'Oracle Bones: A Journey Between China's Part and Present'
By Peter Hessler.

Letters to the Editor
June 14-20, 2006.