June 27-July 3, 2007
home | the papers | metro silicon valley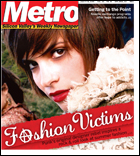 Overhaul
A rate hike now, a costly future of trash outsourcing by 2020? What's the alternative? Forget Gonzo's deals. This is how garbage really works in the South Bay.

Selling sanctuary
The mayor is taking heat for declaring San Jose is not a 'sanctuary city' for immigrants. But the very concept is little more than PR for feel-good politicians.
The Fly: 06.27.07
Bill for Breakfast.
Grue-bleen planet
Why I'm sick of being green.

Silicon Alleys
A walk through lost San Jose.
Technology news
Print media needs to diversify or die.
Sports news
Zumiez Couch Tour.

Interview: Michael Moore
On a whirlwind Bay Area visit, the populist picador talks about his latest controversial doc.
Movie review: 'Sicko'
The latex gloves are off in Michael Moore's exposé of health care in America.
Movie review: 'Evening'
Physician, heal thy script.
Cult Leader: 'Metalstorm' vs. 'Spacehunter'
'80s sci-fi that dared to suck in 3-D.
This week's revivals
'Hedwig and the Angry Inch,' 'North by Northwest' and 'Rear Window.'

MORE MOVIE REVIEWS

MOVIE TIMES

On the grass
This week, summer festivals sprout like weeds.
Music Picks
Audrye Sessions, the San Jose International Mariachi Festival and Rodrigo y Gabriela.

MORE MUSIC AND NIGHTLIFE

MUSIC AND CLUBS LISTINGS

MUSIC AND NIGHTLIFE CALENDAR PICKS

Coop de grâce
Two Latino lunch spots give Cupertino an alternative to franchise overkill.
Live Feed
Thai Temple Food.
5 Things to Love
Taco trucks.

BOOK A RESTAURANT RESERVATION

FIND A RESTAURANT REVIEW

Gravity in a hurry
A world premiere at Pear Avenue explores the far-reaching thoughts of a young boy.
Visceral reaction
TheatreWorks' 'Elephant Man' examines our reactions to otherness.
All Neil
Actors Theatre Center revisits the fail-proof mismatched roommates of 'The Odd Couple.'
Dean's list
Words bind an old man and a young woman in Northside's 'Wrong Turn at Lungfish.'
Book review: 'Thomas Hardy: The Guarded Life'
Book authored by Ralph Pite.
Book review: 'The Santa Cruz Beach Boardwalk: A Century by the Sea'
Book authored by the Santa Cruz Seaside Company.
Kids events
'Snow White and the Seven Dwarfs.'
All Things 4th
Fourth of July event list.

Letters to the Editor
June 27-July 3, 2007.