July 18-24, 2007
home | the papers | metro silicon valley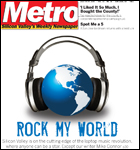 Monster in a box
Technology has torn the music industry wide open, and a new generation of laptop producers have swarmed in to fill the vacuum. From cutting-edge Silicon Valley professionals who have compressed an entire state-of-the-art studio into their computer to our own writer's frightening attempt to make Trent Reznor sound like a woman, music is now anybody's game.

Pushing the limits
Pax Sacramento is about to come crashing down in a political tug-of-war over defeat-proof districts.
The Fly: 07.18.07
With no Mexican border in sight, who would have guessed East Bay Minutemen are demonstrating in Campbell?
Pyle on
Is fashion a crime in San Jose?

Silicon Alleys
One track mind.
Technology news
How can the iPhone be so cool and so evil at the same time?
Sports news
Los Altos native Lorrie Fair, new ambassador for Chelsea F.C., will help bring English football fever to the USA.

Movie review: 'Hairspray'
A fast and funny movie musical.
Movie review: 'Goya's Ghosts'
Nobody expects the Spanish Inquisition.
Movie review: 'Introducing the Dwights'
Brenda Blethyn as an overbearing vaudeville mom.
Movie review: 'Interview'
Battle of the Q&A.
This week's revivals
Astaire movies, 'Goldfinger' and the 'Simpsons Treehouse of Horror' eps.

MORE MOVIE REVIEWS

MOVIE TIMES

Youth slam
Youth Speaks' 'Brave New Voices' international youth poetry slam finals come to San Jose.
Bach takes off
The annual Carmel Bach Festival led with its namesake's 'St. Matthew Passion.'
Music Picks
Sonic Youth, Midsummer Mozart, Music@Menlo, Schola Cantorum, Stanford Symphony Orchestra, Ryan Adams and American Idols Live.

MORE MUSIC AND NIGHTLIFE

MUSIC AND CLUBS LISTINGS

MUSIC AND NIGHTLIFE CALENDAR PICKS

Spot on
A classic diner redefines the definition of 'American' food.
Live Feed
Ethnic to who?
5 Things to Love
Great summer drinks.

BOOK A RESTAURANT RESERVATION

FIND A RESTAURANT REVIEW

Tribal gestures
Stagelight Productions brings back the '60s in musical 'Hair.'
War profits
RTE's 'Noah Johnson' takes a cynical look at burying the dead.
Book review: 'Charlotte Greenwood: The Life and Career of the Comic Star of Vaudeville, Radio and Film'
Book authored by Martin Cruz Smith.
Book review: 'The Art of Lee Miller'
Book authored by Mark Haworth-Booth.
Kids events
'A Year With Frog and Toad.'

Letters to the Editor
July 18-24, 2007.