August 8-15, 2007
home | the papers | metro silicon valley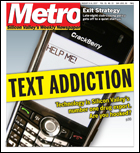 Text Addiction
Technology is Silicon Valley's number one drug export. Are you hooked?

Exit strategy
Late-night club-closing policy gets off to a quiet start.
Feinstein's fury
Up against the big media spin machine.
The Fly: 08.08.07
Wasting time in Santa Clara, part 2.

Silicon Alleys
The main street in historic downtown Campbell is not the only Campbell Avenue in this valley.
Technology news
Those darn new technologies always end up corrupting our kids.
Sports news
Timpani Criterium.
Style
Invasion vs. evasion.

Movie review: 'Becoming Jane'
Anne Hathaway takes up pen and paper to portray beloved author.
Movie review: 'This Is England'
Benign skinheads meet race and class reality.
Movie review: 'Stardust'
Does justice to the high fantasy notions of Neil Gaiman.
Cult Leader: 'Rescue Dawn'
Herzog vs. Herzog: The trouble with remakes.
This week's revivals
'Back to the Future,' 'Casablanca' and 'Three on a Match.'

MORE MOVIE REVIEWS

MOVIE TIMES

Mas Exodus
Heavier, faster, uglier, sicker—and now with more evil.
Fresh ears
The first weekend of the Cabrillo Festival of Contemporary Music offered a spate of premieres.
Music Picks
The Temptations/the Four Tops, Conjunto Primavera, Squeeze and Faith Hill/Tim McGraw.

MORE MUSIC AND NIGHTLIFE

MUSIC AND CLUBS LISTINGS

MUSIC AND NIGHTLIFE CALENDAR PICKS

The way of Sumika
Samurai cool in Los Altos' Japanese cuisine.
Live Feed
To each their own? No way!
5 Things to Love
Ice cream shops.

BOOK A RESTAURANT RESERVATION

FIND A RESTAURANT REVIEW

Carpet bombing
Victims of war from around the world tell their stories in rugs and weavings at the San Jose Museum of Quilts & Textiles.
Natural high
Three shows at the Palo Alto Art Center take eccentric looks at nature.
Book review: 'Shadow of the Silk Road'
Book authored by Colin Thubron.
Book review: 'Indian Summer: The Secret History of the End of an Empire'
Book authored by Alex von Tunzelmann.
Kids events
The Sippy Cups and 'Doctor Faustus.'

Letters to the Editor
August 8-15, 2007.