08.12.09
home | the papers | metro silicon valley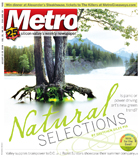 Reduce, Reuse, Respond
From paper ice floes at the San Jose Institute of Contemporary Art to neon nature at the Headlands: Is the new eco-art trend a mere fad or a sturdy critique that's here to stay?

Silicon Valley Goes To Washington
Obama headhunts local legal, academic and corporate leaders.
The Fly Reports on Silicon Valley News

Silicon Alleys
Friday Art and Jazz
Style News: Puttin' on the Ritz
Men's jackets go high style
I Saw You: Messy Madeleines
Metroactive wants to know what gets your goat

Movie Review: 'District 9' Bugs Out
The aliens and the humans have a hard time getting along in sci-fi thriller
Movie Review: 'Ponyo'
An animated tale follows a headstrong goldfish on an oceanic adventure

MORE MOVIE REVIEWS

MOVIE TIMES

Music News: Peter Bjorn and John
Swedish trio looks to Depeche Mode for inspiration

MORE MUSIC AND NIGHTLIFE

MUSIC AND CLUBS LISTINGS

MUSIC AND NIGHTLIFE CALENDAR PICKS

Restaurant Review: Bangalore Cafe
Indian veggie dishes—and ice cream. What's not to like?
Food News: Chido's Blend tastes good and is good for the soul
A new blend from Eauqator Estate Coffees and Teas help African families

BOOK A RESTAURANT RESERVATION

FIND A RESTAURANT REVIEW

Dance Preview: Pointe of Departure
Karen Gabay and Raymond Rodriguez show off their summer dance project
Book Review: 'Blind Trust' by Barabara Boxer
A politician tries her hand at novel writing
Book Review: 'Everything Is Cinema'
The best book in English on Jean-Luc Godard is still lacking

Letters to the Editor
August 12 - 18, 2009