September 6-12, 2006
home | the papers | metro silicon valley
Best of Silicon Valley 2006 Reader's Survey
Vote online for the best food, drink, retail, arts and entertainment in the South Bay.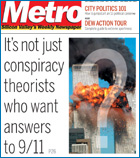 Cover Story: 9/11
Nonconspiracy theorist David Ray Griffin takes aim at the official 9/11 story.

Feature: Meth
The real story of meth in California, from the inside out.
The Fly: 09.06.06
Today, things are looking a wee bit better for disgruntled Milpitas bar owner Frank Palladini.

Silicon Alleys: San Jose Elk Lodge
Everyone has driven by the Elks Lodge on Alma Avenue for years, but no one knows what's inside, so Silicon Alleys had to go find out.
Technology News: Five Years After 9/11
The attacks led to a blooming of 'citizen journalism," which has coincided with the rise of government surveillance online.
Sports News: Dew Action Sports Tour
Ryan Nyquist arrives at this weekend's tour a major force in the BMX world.

Movie Review: 'Hollywoodland'
Diane Lane and Bob Hoskins almost, but not quite, counterbalance Ben Affleck in the story of George Reeves' sad end.
Movie Review: 'The Ground Truth: After the Killing Ends'
A new documentary criticizes the U.S. government's indifference towards its own soldiers after they return from Iraq.
Movie Review: 10th Annual Arab Film Festival
The annual festival keeps cultural cinematic bridges open.
Movie Review: 'Mrs. Palfrey at the Claremont'
Joan Plowright finds an unexpected pal in young writer Rupert Friend.
Movie Review: Global Lens Film Festival
This series screens Third World features that the First World rarely sees.
TV Review: 'The Inspector Lynley Mysteries'
Class-conscious police detectives add genteel grit to whodunits in this BBC series.
Cult Leader: Fuzzy movie memories
Is there a movie that left a mark on you but you can't remember the damn title? Well, Cult Leader is here to help. Email the details you can remember about your own lost movies, and the Leader will tell you what they are.
Movie Review: This Week's Revivals
Holly's Back, Girl: 'Breakfast at Tiffany's,' 'The Breakfast Club' and more.

MORE MOVIE REVIEWS

MOVIE TIMES

Music Preview: Matisyahu
Is the Hasidic reggae artist the chosen or just posing?
Essay: Starbucks
How America's coffee behemoth neuters great music.

MORE MUSIC AND NIGHTLIFE

MUSIC AND CLUBS LISTINGS

MUSIC AND NIGHTLIFE CALENDAR PICKS

Restaurant Review: Amici's East Coast Pizzeria, Tony Soprano's Pizzeria and Ristorante and 4th Street Pizza Co.
Three new pizza places slice up the downtown scene.
Silicon Valley Veggie: 'Meat Market—Animals, Ethics and Money'
Author Erik Marcus' anti-meat industry book is about taking action and trying to effect change.
5 Things to Love: Great Diners
Five of Silicon Valley's top coffee shops.

BOOK A RESTAURANT RESERVATION

FIND A RESTAURANT REVIEW

Visual Arts Review: 'American Seven'
The WORKS/San Jose exhibit updates the seven deadly sins; 'Waiting for ( )' at the ICA finds an eighth crime.

Letters to the Editor
September 6-12, 2006.