October 4-10, 2006
home | the papers | metro silicon valley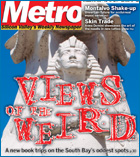 Erik Davis
His new book 'The Visionary State' is a mystic trip through the landscape of California, with plenty of stop-offs right here in Silicon Valley.

News: Bangin' Goes Baghdad
U.S. military strategists in Iraq ought to be asking Silicon Valley gang experts how to get out of this mess.
The Fly: 10.04.06
Is the South Bay losing the Montalvo Arts Center? That depends on who you talk to.

Silicon Alleys: Steve Wozniak
The Apple co-founder tells all in 'iWoz.'
Technology News: Small Pieces Unjoined
Annalee Newitz feels cheated by the walls that have gone up on the web—not the walls that protect her personal information, but the ones that prevent her from finding friends.
Sports News: San Jose Rock N' Roll 1/2 Marathon
Get ready for music and motion coming together as as 15,000 runners rock this town.

Movie Review: 'The Departed'
Martin Scorsese's long and crazy remake of short and baffling Hong Kong thriller 'Infernal Affairs.'
Essay: 'Crank' and ADD-driven cinema
Do today's hectic, ADD-driven features signal a genuine revolution in filmmakers' focus from people to objects?
Movie Review: '49 Up'
Michael Apted's latest installment in his documentary series avoids reality-TV trappings and gets close to some human truths.
Movie Review: 'The U.S. vs. John Lennon'
O, no! Not another political documentary!
Movie Review: 'The Magical Life of Long Tack Sam'
Anne Marie Fleming uncovers her family's mysterious past.
Cult Leader: 'Friday the 13th'
One conversation about '13' things.
Movie Review: This Week's Revivals
Hangin' with Mr. Eastwood: 'Hang 'Em High,' 'Plan 9' and more.

MORE MOVIE REVIEWS

MOVIE TIMES

Music Preview: Alejandro Escovedo
Five reasons why he's one of alt-country's best songwriters.
Music Preview: The Miggs
The San Francisco quartet serves up consistent pop rock.
Music Review: Symphony Silicon Valley
The symphony earns cheers for Jennifer Higdon's Concerto for Orchestra.

MORE MUSIC AND NIGHTLIFE

MUSIC AND CLUBS LISTINGS

MUSIC AND NIGHTLIFE CALENDAR PICKS

Restaurant Review: Cafe Marcella
There's been a whirlwind of change at the Los Gatos restaurant, but chef Scott Murdock is holding down the fort.
Silicon Valley Veggie: Cha-Ya and Café Gratitude
A tale of two vegan restaurants.
5 Things to Love: Old-school (and Still Cool) Restaurants
Restaurants that have not faded with age.

BOOK A RESTAURANT RESERVATION

FIND A RESTAURANT REVIEW

Visual Arts Review: 'Full Coverage'
The skin artists from New Shool Tattoo Studios use bodies like canvases at Anno Domini's tattoo show.
Book Review: 'The Art of S. Clay Wilson'
From Ten Speed Press.
Book Review: 'The Tyrannicide Brief: The Story of the Man Who Sent Charles I to the Scaffold'
By Geoffrey Robertson.

Letters to the Editor
October 4-10, 2006.