November 1-7, 2006
home | the papers | metro silicon valley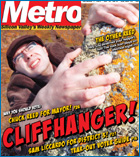 Metro's 2006 Election Coverage:
San Jose election endorsements | State races | Phil Angelides | Peter Camejo | California Supreme Court

The Fly: 11.01.06
Has DA candidate Dolores Carr been doing business with a convicted child molester?

Silicon Alleys: Tom Lehrer
'The breakfast garbage that you throw into the bay/ They drink at lunch in San Jose.'
Technology News: Archiving TV
Because copyright laws gum up the process of archiving TV footage, nobody is tracking and indexing TV the way librarians do books and movies. This is simply ridiculous.
Sports News: San Jose Spartans
Our very own Spartans are now back on the scoreboard.
Style: Mayoral makeovers
The style problems of Chuck Reed are those of many in Silicon Valley. His persona lacks a polished image that aptly represents himself and the people and industries of San Jose to the rest of the world.

Movie Review: 'Borat: Cultural Learnings of America for Make Benefit Glorious Nation of Kazakhstan'
This 'Ali G' spinoff foists a faux foreigner on clueless Americans with high hilarity.
Movie Review: 'Flushed Away'
Easily the least of Aardman's cartoons.
Movie Review: 'Carmen Jones' and 'Stormy Weather'
The Stanford Theatre presents a pair of standout all-black musicals from 20th Century Fox's past.
Movie Review: 'Gloomy Sunday'
Hungarian feature overcomes downer title at San Jose Jewish Film Festival. (Plays Nov. 5 at 5:30pm at Camera 12 in San Jose. See www.sjjff.org for details.)
Cult Leader: 'Scarface'
Nothing exceeds like De Palma's excess.
Movie Review: This Week's Revivals
Le freak, c'est 'Sheik': 'The Sheik,' 'Carmen Jones' and more.

MORE MOVIE REVIEWS

MOVIE TIMES

Music Preview: Lou Reed
Link Wray vs. Steel Bar: It's rock history as only Reed can tell it.
Music Preview: Kat Parra
Local vocalist flies high with release of Latin jazz album 'Birds in Flight.'
Music Review: Symphony Silicon Valley
The symphony celebrates Shostakovich's 100th birthday.

MORE MUSIC AND NIGHTLIFE

MUSIC AND CLUBS LISTINGS

MUSIC AND NIGHTLIFE CALENDAR PICKS

Restaurant Review: The Counter
You can have it your way once again at new burger phenom.
Silicon Veggie: 30 days as a vegan
The 30-day experiment was easy for Elisa Camahort, but it also reminded her that the outside world doesn't think too much about vegans.
5 Things to Love: Sources for cold weather brew
Seasonal winter ales, bocks and barley wines to take the chill off.

BOOK A RESTAURANT RESERVATION

FIND A RESTAURANT REVIEW

Visual Arts Review: 'Family Legacies: The Art of Betye, Lezley and Alison Saar'
The Saars fashion a complex family tree in paintings, sculptures and assemblages.
Book Review: 'Charles Addams: A Cartoonist's Life'
By Linda H. Davis.
Book Review: 'State of Denial: Bush at War, Part II'
By Bob Woodward.

Letters to the Editor
November 1-7, 2006.