11.21.07
home | the papers | metro silicon valley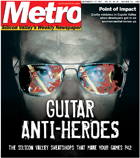 Sweatshop Silicon Valley
A hit video game with an ugly secret raises the question: Can the high-tech creative class become the new underclass?

Running Wild
Do critical omissions in Coyote Valley's environmental impact report represent oversight—or fraud?
The Fly: 11.21.07
Subplot of The Week, Win Like Nguyen & Need For Speed

Silicon Alleys:
This Must Be The Place
Technology News:
Tech: The Access Denied map tells us what we're missing on the web
Sporting Events:
Turkey Trot
Events:
Downtown Trifecta
Kids Events:
The Elves and the Shoemaker

Review: 'I'm Not There.'
Bob Dylan shows up six times in Todd Haynes' new movie
Review: 'The Bitter Tea of General Yen'
A Frank Capra/Barbara Stanwyck sizzler is revived at the Stanford Theatre in Palo Alto.
Cult Leader
Lee Marvin's still the man
Review:
This week's movie revivals

MORE MOVIE REVIEWS

MOVIE TIMES

Expanding Horizons
Youssou N'Dour heads to Santa Cruz with a bag of musical surprises from the northern reaches of his native Senegal
This Week's Music Picks
The Trans-Siberian Orchestra, The Phenomenauts & Vicente FernŠndez

MORE MUSIC AND NIGHTLIFE

MUSIC AND CLUBS LISTINGS

MUSIC AND NIGHTLIFE CALENDAR PICKS

Point Spread
Overly ambitious Castro Point needs to tighten its focus, play to its strengths
Live Feed
Bean Gone Too Long
5 Things to Love
Fast-Food Chains That Don't Suck

BOOK A RESTAURANT RESERVATION

FIND A RESTAURANT REVIEW

Poetry: W.S. Merwin at 80
Gretchen Giles interviews the poet and translator
Stage Review: 'Jacob Marley's Christmas Carol'
City Lights upends Dickens in new show
Ballet Review: 'Carmina Burana'
Ballet San Jose pulls out all the stops
Opera Review: 'Werther'
Young love at Opera San Josť
Books: 'Citrus: A History' by Pierre Laszlo
Reviewed by Michael S. Gant
Books: 'Historical Atlas of California' by Derek Hayes
Reviewed by Michael S. Gant

Letters to the Editor
November 21-27, 2007.