12.12.07
home | the papers | metro silicon valley
Enter to win the Ultimate Cirque du Soleil Preview Night!
Click here to enter Metroactive's Cirque du Soleil contest.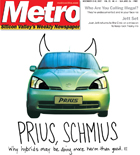 Fueling the Fire
Hybrids and diamond lanes may be soothing our conscience, but they're not easing the transportation crisis. Will long-term solutions like mass transit ever get a real chance in our car-addicted culture?

Don't Call Me Criminal
Is the immigration debate ready for 'coming out of the undocumented closet'?
The Fly: 12.12.07
To Cross or Not to Cross, In the Dark & Tuesday Is Fight Night

Silicon Alleys:
Meet Me at Count Five Place
Technology News:
Why the Wii is the future of technology
Sporting Events:
Uvas South Bay Triathlon
Events:
Toy Trains
Kids Events:
The Sippy Cups 'Fall From Space'

Review: 'Atonement'
One slip-up plagues lower-class boy and upper-class girl for years
Review: 'The Kite Runner'
Afghan boys try to survive wartime in adaptation of Khaled Hosseini novel
Review: 'Starting Out in the Evening'
Frank Langella's older writer gets an ego boost from a young admirer
Review: 'The Walker'
Woody Harrelson plays a gossip hound caught in a Washington, D.C., murder mystery
Review: 'War Dance'
Uganda's National Music Competition is attended by some special children
Review:
This week's movie revivals

MORE MOVIE REVIEWS

MOVIE TIMES

Last Freak Standing
Early-'80s Joan Jett vs. 21st-century Joan Jett: Still strange
This Week's Music Picks
Gypsy Soul, Dave Koz & Chanticleer

MORE MUSIC AND NIGHTLIFE

MUSIC AND CLUBS LISTINGS

MUSIC AND NIGHTLIFE CALENDAR PICKS

Against Mall Odds
Find your foodie gifts at local boutiques
Live Feed
Eat These Books
5 Things to Love
Good Ramen Restaurants

BOOK A RESTAURANT RESERVATION

FIND A RESTAURANT REVIEW

Art Review:
'Iraq Open Shutters' and 'The Landscape of War' at the San Jose Institute of Art
Classical Music Review:
'Symphony Silicon Valley' does 'Pictures at an Exhibition'
Classical Concerts:
This weeks picks
Books: 'Shooting War' by Anthony Lappe and Dan Goldman
Reviewed by Richard von Busack
Books: 'The Magnificent Flora Graeca' by Stephen Harris
Reviewed by Michael S. Gant
DVD Review:
'Futurama: Bender's Big Score'
DVD Review:
'The Two Jakes/Chinatown'
DVD Review:
'Drunken Angel'

Letters to the Editor
December 12-18, 2007.