01.16.08
home | the papers | metro silicon valley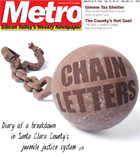 Tales From A Trial
Karim Noble's journey through the Santa Clara County courts has shown all the signs of a juvenile justice system in crisis. And with resources stretched to the limit, that crisis is likely to get a lot worse. One writer was allowed an inside look and documented the proceedings.

Secret's Out
As Macworld Expo hits, there's something missing this year: the überfan whose inside information drove Steve Jobs nuts
Judge Knot
With unusual rules and lots of restrictions, the race to replace Superior Court Judge Ray Cunningham could get complicated
The Fly: 01.16.08
Riches to Rags, Viet-ervention & Pushing Limits

Silicon Alleys:
Madison Avenue
Technology News:
Are blogs doomed to repeat the mistakes of mainstream media?
Events:
The Food Network's Ellie Krieger whips up some sample dishes and signs copies of her latest book
Sporting Events:
MLK Invitational Girl's/Women's Hockey Tournament
Kids Events:
The StarStruck Theatre's production of 'Honk!'

Film Review: 'Cloverfield'
J.J. Abrams brings you some of the best New York destruction porn since 'Heroes' season 1.
Film Review: 'Cassandra's Dream'
Good and bad talk it out in new Woody Allen film
Film Review: 'Nanking'
A new documentary revisits a wartime nightmare in China
Film Review: 'Flourish'
A Cinequest sneak peak

MORE MOVIE REVIEWS

MOVIE TIMES

Fred's Head
Roots rock hero Fred Eaglesmith on change, confidence and gospel without Jesus
Music Picks:
Dan Deacon, Jennifer Scott and Kristen Strom, Seth Walker & The Limeliters

MORE MUSIC AND NIGHTLIFE

MUSIC AND CLUBS LISTINGS

MUSIC AND NIGHTLIFE CALENDAR PICKS

Fugu About It
Santa Clara's Hoshi offers the rare chance to sample blowfish
5 Things to Love
Trader Joe's Foods I Always Buy
Live Feed
Froyo Hands in the Air

BOOK A RESTAURANT RESERVATION

FIND A RESTAURANT REVIEW

Art Review: 'Transfigurations'
Jan Marcus' photo exhibit at Stanford reveals the lives of the transcended
Dance Review: 'The Glass Menagerie'
Margaret Wingrove choreographs Tennessee Williams
Book Review:
'Manga: The Complete Guide' by Jason Thompson
Book Review:
'Food: The History of Taste' edited by Paul Freedman
Classical Previews:
Symphony Silicon Valley Jan. 17 and 19-20 at the California Theatre, San Jose; Peninsula Symphony with Taylor Eigsti, Jan. 18 at the Fox Theatre in Redwood City and Jan. 19 at Flint Center in Cupertino; the Kronos Quartet, Jan. 18 at Memorial Auditorium, Stanford; Saratoga Symphony, Jan. 20 at St. Andrew's Episcopal.
DVD Review:
'The rise and fall of silent comedian Harry Langdon'
DVD Review:
'This Sporting Life'
DVD Review:
''Melissa'

Letters to the Editor
January 16-22, 2008