March 28-April 3, 2007
home | the papers | metro silicon valley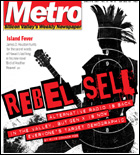 Alt-rock radio
The Internet saved alt-radio in Silicon Valley when devoted fans beat the odds in their successful campaign to bring back Channel 104.9. But it faces an entirely new landscape, where alternative is the new classic rock, former rebels are the new boomers, and the whole radio game may be waiting around to be killed off by ... the Internet.

Feds may move on local mosques
A new FBI case against terror suspects could be set to rock the Bay Area.
The Fly: 04.04.07
YouTube For President.

Silicon Alleys
The mother of all tailgates.
Technology news
Annalee Newitz takes a peep through Yahoo's Pipes.com.
Sports news
SaberCats season has officially started.
Style
Looking good looks good to Silicon Valley these days.

Movie review: 'Grindhouse'
Everything but the scabies.
Movie review: 'Gun Crazy'
The Stanford Theatre revives Joseph H. Lewis' berserk film noir classic.
DVD review: 'Animated Soviet Propaganda'
A new collection of Soviet-era propaganda shows how cartoons fought the Cold War.
Movie review: 'The Reaping'
Hilary commits Swank nonsense.
Cult Leader: 'Showgirls'
Paul Verhoeven has a new World War II movie, but the 1995 cult favorite was his first experience with bombs.
This week's revivals
Magic Busby: 'Footlight Parade' at the Stanford.

MORE MOVIE REVIEWS

MOVIE TIMES

Prog rock
It isn't dead—some of it just smells funny.
Music Picks
Los Tigres Del Norte, Filthy Thieving Bastards and classical-music highlights.
Symphony Silicon Valley
Their take on Verdi's Requiem mutes the drama.
Metroactive Club Newsletter
The Killers, Zion I & The Grouch, Velvet Shop & Adult Star Search.

MORE MUSIC AND NIGHTLIFE

MUSIC AND CLUBS LISTINGS

MUSIC AND NIGHTLIFE CALENDAR PICKS

Restaurant review: Morton's
Part of the San Jose steak explosion.
Silicon Veggie
Does mindful matter?
5 Things to Love
Persian restaurants.

BOOK A RESTAURANT RESERVATION

FIND A RESTAURANT REVIEW

Books: 'Bird of Another Heaven' by James D. Houston
Houston looks at the history of Hawaii and California in his new novel.
Stage: 'Voluntary Amnesia'
Three women struggle to break free of depression.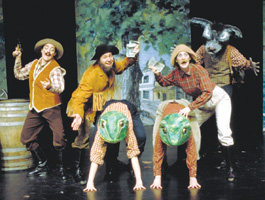 Fortune Hunters: In California Theatre Center's 'The Bremen Town Musicians,' four intrepid animals find themselves looking for nuggets during the California Gold Rush; the play shows April 7 at 11am and 7:30pm, with repeats on April 14 and 21 at 11am, at the Sunnyvale Theater, 550 E. Remington Dr., Sunnyvale. (Photograph by Marcia Lepler)
Stage: 'Nixon's Nixon'
San Jose Rep imagines a night of politics and paranoia with Kissinger and Nixon.
Book review: 'A Graphic Memoir'
Book authored by Aline Kominsky Crumb.
Book review: 'A Rose Has No Teeth: Bruce Nauman in the 1960s'
Book authored by Constance M. Lewallen, with essays by Anne M. Wagner, Robert Storr and Robert R. Riley.

Letters to the Editor
April 4-10, 2007.