April 5-11, 2006
home | the papers | metro silicon valley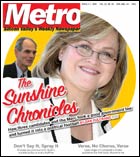 San Jose Sunshine Ordinance
A sunshine ordinance has been discussed for seven years. It was just defanged in non-public meetings. And it looks like nothing will happen until after the mayoral elections anyway.

News: The Zero-Sum Game
Why the Bush administration's policy of 'preventative' engagement could make nuclear warfare a reality.
The Fly: Eminent Disdain
San Jose Redevelopment Agency is target of initiative to limit powers; the future of newspapers look grim at Internet panel with San Jose Mercury and Salon.com speakers; Santa Clara VTA must improve bus safety for wheelchair passengers after losing lawsuit.

Silicon Alleys: Writing for a Living
Gary Singh talks to veteran freelancer Larry Tritten about staying in print.
Technology News: Arbitrary Anachronism
Tech columnist Annalee Newitz visits the past as re-created by costumed role players in Yolo County.
Car News: Diesel Cars Are Coming
Soon California drivers will be able to buy new, legal diesel passenger cars.

Movie Review: The Actor of Zenda
The Stanford Theatre in Palo Alto hosts a comprehensive festival of Ronald Colman films.
Movie Review: 'The Devil and Mr. Johnston'
The life of a mad Austin musician.
Film Festival Review: 'Spike and Mike's 2006 Sick & Twisted Animation Festival'
Annual film festival is better than you might think.
Cult Leader: 'Slither'
A cult film is born.
Movie Review: 'Lucky Number Slevin'
Paul McGuigan's new film should be rated P for the gratuitous overuse of plaid.

MORE MOVIE REVIEWS

MOVIE TIMES

Music Review: San Francisco Noise Pop Show
Kid Koala, Mike Relm and other DJ greats spin up a storm.
Music News: Fake Out
Website Fakebands.com sorts out real bands from made-up groups.
Classical Music Review: Symphony Silicon Valley
San Jose's symphony orchestra shines with solo pianist Jon Nakamatsu.
Club Review: Montalvo's Garden Theatre
Montalvo packs the Saratoga hills with smooth jazz, rock and R&B—plus a few surprises.

MORE NIGHTLIFE

NIGHTLIFE LISTINGS

NIGHTLIFE CALENDAR PICKS

Restaurant Review: Saigon 75
New restaurant in San Jose near the new City Hall delivers distinctive Vietnamese cuisine.
Live Feed: Wine World
Pinot Paradise festival in Saratoga; plus visiting Soquel Vineyards, Windy Oaks, Hallcrest Vineyards, Storrs and McHenry Vineyards.
5 Things to Love: The Great Outdoors
Some prime wild foods to sample, from wild mushrooms to seaweed and truffles.

BOOK A RESTAURANT RESERVATION

FIND A RESTAURANT REVIEW

Book Review: 'Coma Therapy'
Local Campbell rock vocalist Eric Victorino of Strata tries his hand at writing in new book of stories.
Book Review: 'The Art of the Italian Movie Poster'
Mel Bagshaw charts nearly a century of a powerful graphic tradition.
Book Review: 'The Disposable American: Layoffs and Their Consequences'
Reporter Louis Uchitelle traces the dismal course by which layoffs have become commonplace.
Live Theater: 'Gypsy'
American Musical Theatre of San Jose production is big, brassy and beautiful.
Live Theater: 'The Lost Formicans'
Looking at life from an alien perspective at Pear Avenue Theatre in Mountian View.