11.28.07
home | the papers | metro silicon valley
Enter to win the Ultimate Cirque du Soleil Preview Night!
Click here to enter Metroactive's Cirque du Soleil contest.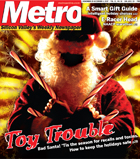 2007 Holiday Gift Guide:
Toxic Toy Story | Recalled Toys | Killer Gifts | Holiday Music Picks | Holiday Shopping Tips | Holiday Movie Preview | Holiday Book Picks Holiday Event List

State of the Parks
Talking funding priorities, pools, stadiums and the future of San Jose open space with former parks leader Helen Chapman
The Fly: 11.28.07
Tap Dance, Recall by the Numbers & Wilcox Revisited

Silicon Alleys:
Political Theater Of the Absurd
Technology News:
What can DNA tests by mail really tell us?
Sporting Events:
E-Race Racism Run
Events:
Anthony Slide appears at the Castro Theatre
Kids Events:
San Jose Mainstage production of 'Annie Warbucks'

Review: Silent Wonders
Stanford and Castro theatres salute a by-gone era of films
Review: 'What Would Jesus Buy?'
Rev. Billy Wirtz delivers the Sermon on the Mall in 'What Would Jesus Buy?'
Review: 'Romance and Cigarettes'
John Turturro creates the weirdest musical yet
Cult Leader
Who are all those people talking about Joe Strummer?
Review:
This week's movie revivals

MORE MOVIE REVIEWS

MOVIE TIMES

Spiced Life
True confessions of a real, live Spice Girls fan
This Week's Music Picks
Switchfoot & the Roots

MORE MUSIC AND NIGHTLIFE

MUSIC AND CLUBS LISTINGS

MUSIC AND NIGHTLIFE CALENDAR PICKS

Super Mario
Saratoga's new neighborhood spot for Italian is a cut above
Live Feed
Tak a Luke att Hour Spesh Als!
5 Things to Love
Reasons to Reconsider Your Restaurant Choice

BOOK A RESTAURANT RESERVATION

FIND A RESTAURANT REVIEW

Books: Otto-Biography
A new biography makes the case for some of director Otto Preminger's forgotten features
Stage Review: 'A Tuna Christmas'
San Jose Stage Company puts the Texas twosome in a holiday mood
Books: 'The Black Lizard Big Book of Pulps' edited by Otto Penzler
Reviewed by Michael S. Gant
Books: 'Amazing Rare Things' by David Attenborough
Reviewed by Michael S. Gant
Classical Preview
This weeks picks

Letters to the Editor
November 28-December 4, 2007.