12.05.07
home | the papers | metro silicon valley
Enter to win the Ultimate Cirque du Soleil Preview Night!
Click here to enter Metroactive's Cirque du Soleil contest.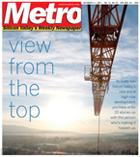 Looking Down on Creation
The best view of San Jose's new era of high-rise development can be found in a small metal box 20 stories up

Toy Soldiers
Behind the statistics is the story of why San Jose gangs are getting younger and more violent
The Fly: 12.05.07
Sewer Services Down the Drain, Porno for Poli-Sci & Warning: Contains No Actual Juice

Silicon Alleys:
Multiplicity
Technology News:
Comcast wages a covert war against file sharing
Sporting Events:
The BADGirls roller hockey championship
Events:
Downtown Ice
Kids Events:
California Theatre Center's 'An Old-Fashioned Holiday'

Review: 'Margot at the Wedding'
Nicole Kidman brings a tart tongue to Jennifer Jason Leigh's big day
Review: 'The Golden Compass'
A new fantasy franchise arrives with more questions than answers
Cult Leader
Psychotronix Festival
Review:
This week's movie revivals

MORE MOVIE REVIEWS

MOVIE TIMES

Naked Utters
Naked Raygun and the Swingin' Utters let it all hang out—together
This Week's Music Picks
Andrew Bird, Tori Amos, Jonathan Richman & The Oak Ridge Boys

MORE MUSIC AND NIGHTLIFE

MUSIC AND CLUBS LISTINGS

MUSIC AND NIGHTLIFE CALENDAR PICKS

Eat at Joe's
Even after a remodel, downtown institution is still the original
Silicon Veggie
Meatless Holiday Treats
5 Things to Love
Restaurants Near HP Pavilion

BOOK A RESTAURANT RESERVATION

FIND A RESTAURANT REVIEW

Stage Preview: Campesino Christmas
El Teatro Campesino rings changes on 'La Pastorela' in San Juan Bautista
Stage Review: 'This Wonderful Life'
Dan Hiatt plays all the parts in a stage version of Frank Capra's holiday classic
Stage Review: 'Twelfth Night'
TheatreWorks gives a groovy '60s spin to Shakespeare comedy
Stage Review: 'Stop Time!'
Tabard Theatre taps its way through a new musical revue
Books: 'Who Named the Knife' by Linda Spalding
Reviewed by Richard von Busack
Books: 'Uncanny Bodies' by Robert Spadoni
Reviewed by Michael S. Gant
DVD Review: 'Prime Suspect'
Helen Mirren brings down the curtain on the great British detective series

Letters to the Editor
December 5-11, 2007.