April 11-17, 2007
home | the papers | metro silicon valley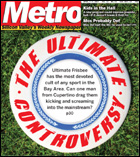 Ultimate Frisbee
It has the most devoted cult of any sport in the Bay Area. Can one man from Cupertino drag them kicking and screaming into the mainstream?

Juvenile Hall
A new program could be the solution to the county's increasing problem with repeat youth offenders. The problem is that it's quickly pushing juvie to capacity.
The Fly: 04.11.07
Singleton to sell Sentinel property.

Silicon Alleys
Chuck Palahniuk amuck.
Technology news
San Francisco's fight over public WiFi may help San Jose find its connection.
Sports news
The Sharks are after the most dangerous game of all—the Stanley Cup.

Movie review: 'The Wind That Shakes the Barley'
Ken Loach looks at the Irish troubles without sentiment.
Movie review: 'Black Book'
Paul Verhoeven gives World War II a 'Showgirls' sheen.
Movie review: 'Perfect Stranger'
Halle Berry makes journalism look glamorous as she goes undercover to catch a rotter.
Film festival review: 'Spike and Mike's 2007 Sick & Twisted Festival of Animation'
Spike and Mike gets sicker and quicker.
Cult Leader: Grifter movies
A former confidence man rates the great con flicks.
This week's revivals
He sees dead people: Roland Young in the original 'Topper' at the Stanford.

MORE MOVIE REVIEWS

MOVIE TIMES

Mos Def
Is he half the MC he used to be?
Music Picks
Cowboy Junkies, Security, San Jose Taiko and classical-music highlights.
Metroactive Club Newsletter
Jamie Foxx, The Shins, Wolfmother, Mos Def & Teddy Wars.

MORE MUSIC AND NIGHTLIFE

MUSIC AND CLUBS LISTINGS

MUSIC AND NIGHTLIFE CALENDAR PICKS

Restaurant review: Sultana
Their Turkish cuisine is worth digging into.
Live Feed
Chocolate is flowing like a river.
5 Things to Love
Great restaurant bars.

BOOK A RESTAURANT RESERVATION

FIND A RESTAURANT REVIEW

Visual arts: WORKS/San José
Longtime San Jose alternative gallery adds its vision to the SoFA District art scene.
Stage: 'Merrily We Roll Along'
Stephen Sondheim's play tracks a producer's career back to its heady start.
Stage: 'The White House Murder Case'
San Jose Stage revives Jules Feiffer's Vietnam-era satire.
Book review: 'The Colorful Apocalypse: Journeys in Outsider Art'
Book authored by Greg Bottoms.
Book review: 'Gordon Matta-Clark: You Are the Measure'
Book edited by Elisabeth Sussman.
Kids events
Otter on the move.

Letters to the Editor
April 11-17, 2007.