September 20-26, 2006
home | metro silicon valley index | features | silicon valley | feature story
Best of Silicon Valley 2006:
Intro | The Short List | Campbell | Cupertino | Gilroy and Morgan Hill | Los Gatos | Milpitas | Mountain View | Palo Alto and Menlo Park | San Jose | Santa Clara | Saratoga | Sunnyvale | Willow Glen | Readers' Choice—Food & Sustenance | Readers' Choice—Love & Romance | Readers' Choice—Arts & Culture | Readers' Choice—Shopping & Services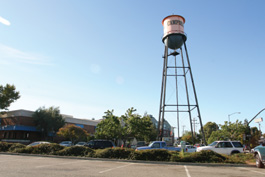 The Campbell Water Tower didn't win anything, we just really like it.
Best of Silicon Valley 2006
Best of Campbell
Best Place to Find Dog Ears
Recycle Books. 241A E. Campbell Ave., Campbell 408.370.3514. Although Campbell's Recycle Books location is smaller than its sibling on The Alameda in San Jose, the store still features a wide selection of books, its shelves filled with everything from Chuck Palahniuk's latest novel to true-crime stories, books on cassette, history collections and vegan cookbooks. While most of the books show their wear (including dog-eared pages), many were sold to the store with virgin spines, and all are sans greasy fingerprints and notes scribbled in the margins. (RUNNER-UP: Los Gatos Creek County Dog Park)
Best Excuse to Stay Home From Work To Build a Ship in a Bottle
D&J Hobbies. 96 N. San Tomas Aquino Road, Campbell 408.379.1696. A wonderland for kids of all ages, the casual crafter and hard-core hobbyist alike can find a wealth of handy tools at D&J Hobbies. The outer edges of the store are devoted to six registers, and each focuses on a specific section of the store, personalizing the help patrons can receive from each station. It isn't enough that D&J carries a variety of art supplies, puzzles, model trains, games and toys, the shelves are also packed with doodads and whosiwhatsits for building model cars and planes, constructing small dolls and dollhouses, making jewelry and flower arrangements and re-enacting the Second World War on your kitchen table while the kids are sleeping.
Best Campbell
Santa Clara County's own Campbell, as opposed to that 'other' Campbell in Modoc County. Where?
Best Opportunity to Test Your Bleach by Getting Grass Stains On Your Pants
John D. Morgan Park. 540 W. Rincon Ave., Campbell 408.866.2105. Campbell's largest outdoor park is sprawling with more grass than that found in all of downtown San Jose. The knoll slinks down beneath street level and is surrounded by trees, creating a feeling of seclusion. That is, until the children from one of the numerous birthday parties attack (watch for their upcoming special on the Discovery Channel). The park features two reservable picnic areas for events, as well as more than 20 first-come-first-served picnic tables, two playgrounds, basketball courts, baseball and softball fields and grass—lots of grass. Not pot but actual grass. Did I mention the grass? It's green.
Best Place to Drop $100 on a Miniature Shark
Dolphin Pet Village. 90 N. San Tomas Aquino Road, Campbell 408.379.7600. While the store carries a small selection of ever-changing reptiles and amphibians, along with a few tarantulas, rodents and birds, the aquariums are the main draw. Rows of tanks holding nearly every type of fish, crustacean, shark and live coral imaginable could easily keep one busy for half of the day and make a free way to fascinate young ichthyologists (though, sadly, there are no dolphins). The remainder of the 10,000-square-foot store is filled with various pet supplies, including tanks, food, aquarium plants, cleaning supplies, collars and toys.
Best Place to Drop Off a $100 Miniature Shark
Silicon Valley Animal Control Authority. 408.764.0344. Hey, it's important to know how to humanely rid yourself of the thing if it should bite (or try to eat a small kitten). The SVACA serves Campbell, Monte Sereno and Santa Clara.
Best Place to Eat Asphalt Campbell Skate Park
Campbell Community Center, 1 W. Campbell Ave., Campbell 408.871.5198. Campbell's skatepark is a semisafe way for kids to kick it on their own while getting some exercise and possibly a few minor scrapes (makes 'em more "street"). Rules require that skaters sign a liability waiver, and they also have to wear knee- and elbow pads and helmets. These also protect the kids should they get hit by a car while jaywalking on the way to the park. The facility is closed on some Mondays for skateboarding classes, but otherwise open from afternoon until dark weekdays and from 11am until dark on weekends. The park is also available for rent for private parties. On a related note, skateboarding pioneer Steve Caballero makes Campbell his home.
YOU CHOSE: Best Ethiopian Restaurant
Shebele. 422 E. Campbell Ave., Campbell 408.371.3131. Serving traditional Ethiopian cuisine since 1993, Shebele is located in downtown Campbell, close to the old Gaslighter Theatre and Mind's Eye Gallery. The restaurant is owned by Winnie Bekele, a native of Ethiopia, and the menu features single and family-style dishes, many of which are vegetarian, served with injera, a pancakelike, spongy Ethiopian bread. The interior of the restaurant is decorated with a series of images telling a story, and the tables and walls feature handmade paintings and cloths. Shebele also has a location at 2561 N. First St. in San Jose.
Best Margarita
Aqui. Multiple locations; www.aquicalmex.com. Already thriving with two restaurants, one in Willow Glen and the other in Blossom Valley, Aqui has been constructing its third location at 201 E. Campbell Ave. in Campbell for a year. Aqui describes its house Margarita as "industrial strength," served blended or on the rocks with gold tequila, lime juice and vodka. The Cal-Mex eatery has a full-service bar and serves a variety of dishes, including salads, enchiladas, burritos, taquitos and other California-inspired Mexican fare.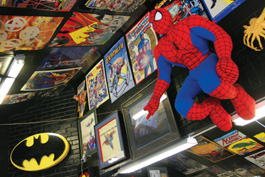 Spidey gets in shape for his upcoming sequel at Heroes.
Best Breakfast
Stacks. 139 E. Campbell Ave., Campbell 408.376.3516. With up to an hour-long wait to be seated on weekend mornings, Stacks had better serve a damn good breakfast. Offering up breakfasts akin to Denny's for the upper crust, traditional choices include varieties of crepes, pancakes, waffles and omelettes, along with Mexican flavors like huevos rancheros and frittatas. Another change from traditional diner fare is the substitution of a bagel or potatoes as a side, as opposed to the typical bacon or sausage. Stacks also serves lunch with basics such as sandwiches, salads and hamburgers.
Best Comics Store
Heroes. 24 E. Campbell Ave., Campbell 408.378.3667. Kids, anime fiends and adults looking to rekindle a childhood joy of pictorial reading can browse dozens of comics from Marvel, DC, Dark Horse and others on the shelves at Heroes. Stacks of new arrivals come in each week featuring famed crime fighters such as Batman, Justice League and X-Men. The store also sells original works of art from various illustrators, and from Monday through Friday, employees purchase used comics for resale. These used comics often include classic and rare items, provided they are in good condition.
Send a letter to the editor about this story.