September 20-26, 2006
home | metro silicon valley index | features | silicon valley | feature story
Best of Silicon Valley 2006:
Intro | The Short List | Campbell | Cupertino | Gilroy and Morgan Hill | Los Gatos | Milpitas | Mountain View | Palo Alto and Menlo Park | San Jose | Santa Clara | Saratoga | Sunnyvale | Willow Glen | Readers' Choice—Food & Sustenance | Readers' Choice—Love & Romance | Readers' Choice—Arts & Culture | Readers' Choice—Shopping & Services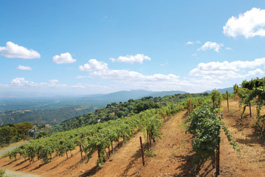 Not only did Ridge Vineyards beat the French in a 30-year rematch, they also won over our readers, which is even more impressive.
Best of Silicon Valley 2006
Best of Cupertino
Best Otherworldly Dining Experience
Gochi. 19980 Homestead Road, Cupertino 408.725.0542. Gochi is unlike anything else you'll find in Cupertino. The restaurant was an immediate hit with Silicon Valley's Japanese community and visiting Japanese businessmen when it opened last year. Publicity-shy chef Masahiko Takei has created a menu of what he calls Japanese fusion tapas, a riff on izakaya cuisine—small, elegant plates of grilled and fried food perfect for downing large quantities of sake, beer and soju. Most of the food is straight-up, albeit rarefied, Japanese fare, but Masa, as he's known to friends and fans, throws in a few American, French and Korean twists. Gochi's menu goes beyond traditional fried and grilled izakaya offerings to include salads, stews, rice dishes, soups, carpaccio, clay pot dishes and more. With a menu more than 100 items long, it's best to go in a large group. Bring your appetite and an open mind.
Best Local Saint
St. Joseph of Copertino. It may be hard to be an "Orthodox Christian" in Cupertino, as teacher Stephen Williams found out when he tried to turn the Founding Fathers' deism into Christian prop. But if sister cities share patron saints, Cupertinians will never run short of celestial blessings. Hopefully, locals didn't let Sept. 18 pass without noting the feast day of "The Flying Friar" St. Joseph of Copertino (1603-1663) from Cupertino's namesake city in Italy. Though he was an illiterate priest, St. Joseph of Copertino was subject to such terrific religious ecstasies that he floated in midair. Sworn testimony led to St. Joseph being canonized in 1767, years before television ripped off his life for "The Flying Nun." Students can appeal to him for better grades, but the saint's tendency to defy gravity leads him to being the patron saint of astronauts and pilots; Cupertino's Apple executives might also bend a knee to St. Joseph of Copertino when blue-skying new technology, or when pumping some verbal helium into sales projections.
Best Eastern Antidote to Starbucks Domination
Ten Ren Tea. 10881 N. Wolfe Road, Cupertino 408.873.2038. With stores in six countries, Ten Ren is doing its part to challenge Starbucks' global java hegemony. At the store's Cupertino Village location, you'll find rare green and oolong teas, flowering chrysanthemum tea, beautiful teapots and assorted tea paraphernalia. Looking for something different? Try a pot of pu-erh tea, a popular brew of tea in Canton and southwestern China. When brewed, pu-erh tea has a dark reddish color with a strong, full and earthy taste. It's an ideal tea for those who've sworn off coffee. For the kids there's also a bubble tea bar.
Best Cupertino Crossroads
Coffee Society. 21265 Stevens Creek Blvd. 202, Cupertino 408.725.8091. "Downtown Cupertino" is a contradiction in terms, so Coffee Society's location at the Oaks Shopping Center is as close to a cultural capital as the city offers. It's stuffed full—and we mean full—of De Anza students, who brave six lanes of traffic to get to it. While the roosting spots outside fill up fast, the nook inside is a favorite place to recline, and on the last visit a lazyboy or two to encourage a long, coffee-fueled siege. Nothing could be more opposed to the drink-your-coffee-fast, listen-to-a-couple-of-Snorah-Jones-songs-and-get-out-of-here vibe of huge coffee franchises.
Best Low-Watt Radio Station
KKUP-FM (91.5). Garage radio at its most local, KKUP continues to defy narrowcasting by broadcasting every kind of music ever made: reggae, blues, homemade music, wimmens, American Indian; even guys from the Kalahari who moan and rattle gravel in earthenware cups. "No Pigeonholes" is the title of one KKUP show, but it could double as KKUP's slogan. However, when the focus is on one particular kind of music—such as the Western swing played by the 35-year-old Sunday 9-midnight broadcast of the "Cupertino Barndance" show hosted by Stompin' Steve Hathaway—KKUP makes tradition as well as plays it.
Best Cupertino Blog
www.burbed.com/category/cupertino/. Let's face it, Cupertino is not a hotbed of crime, corruption or cutting-edge culture. What is interesting in Cupertino is the constant staggering value of this area in real-estate wealth. Burbed.com keeps track of how today's little old crap-box bungalow is the footprint for tomorrow's goliath-size minimansion, fit for 80-hour-a-week Apple execs and their striving homework-whipped kids. The blog follows the course of a now nationally famous, 60-year-old 827-square-foot house on Lomita Avenue that is now appraised for more than a million bucks, or around $1,225 per square foot; and as the blog demonstrates, this itty-bitty house now has plenty of company in its price range. Remember when the Internet was just used to search out pictures of people's genitals? A far more innocent era.
You Chose: Best Winery
Ridge Vineyards. 17100 Monte Bello Road, Cupertino 408.867.3233. There's really no contest here. Ridge had already established itself as a maker of muscular yet elegant zinfandel and cabernet sauvignon when a 1971 Ridge Monte Bello cabernet sauvignon bested similarly aged French wines in a rematch of the infamous Paris Tasting of 1976 earlier this year, sealing its reputation as a winery for the ages. In 1976, an English wine shop owner organized a tasting of six top California cabernets (one of which was a Ridge cab) and chardonnays against four French bordeaux and four white burgundies. The judges were among the best tasters in France, and to everyone's surprise (especially the French) the California wines won. The wine world has not been same since. Incredulous, the French judges sniffed that the California wines would not age and the French wines would win if tasted again in 30 years. Wrong. At the rematch, tastings were held in London and Napa with nine expert tasters at each location judging the original red wines. The winning wine in both the United States and the U.K. was the Ridge Monte Bello 1971. While you're unlikely to find a bottle of that winning 1971 cab, the more recent vintages available for the tasting at Ridge's hilltop winery are our reader's 2006 favorites.
Send a letter to the editor about this story.