September 20-26, 2006
home | metro silicon valley index | features | silicon valley | feature story
Best of Silicon Valley 2006:
Intro | The Short List | Campbell | Cupertino | Gilroy and Morgan Hill | Los Gatos | Milpitas | Mountain View | Palo Alto and Menlo Park | San Jose | Santa Clara | Saratoga | Sunnyvale | Willow Glen | Readers' Choice—Food & Sustenance | Readers' Choice—Love & Romance | Readers' Choice—Arts & Culture | Readers' Choice—Shopping & Services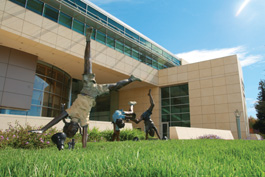 Out front at one of Milpitas' most recognizable buildings, City Hall.
Best of Silicon Valley 2006
Best of Milpitas
Best Chinese in the Valley
South Legend Sichuan Restaurant. 1720 N. Milpitas Blvd., Mipitas 408.934.3970. Philadelphia is the city of brotherly love. Portland is the rose city. And Milpitas is the city of really good Chinese food. As a city with a large population of recent arrivals from China, Milpitas' Chinese restaurants cater to customers who know what truly authentic Chinese food tastes like. Top of the list is South Legend Sichuan Restaurant. Unless you're willing to travel to Chengdu, China, South Legend is the premier source for Szechuan food in Milpitas and Silicon Valley at large. Although Sichuan food is famed for its spiciness, South Legend wows you with its complexity and variety of flavors rather than outright heat. Don't miss the dan dan noodles, gong bao (king pao) chicken, ma po tofu and the weekend menu that showcases Chengdu-style dim sum—lighter fare like dumplings, cold noodles and vegetable cakes.
Best Local Night Spot
Bleu Ginger. 90 S. Abel St., Milpitas 408.719.9998. Milpitas is not known as the city that never sleeps. It's a city that gets to bed at a reasonable hour, because it has to get up early. But when Milpitasians feel like stepping out for a night on the town, newly opened Bleu Ginger restaurant and lounge is the place to do it. The upscale European-Asian fusion menu and sleek, modern bar have filled a gap in the city's fine dining category that was big enough to sail a battleship through. On weekends, Bleu Ginger hosts live jazz bands. Add comfy couches and swanky décor and you've got a true nightspot. True, Bleu Ginger is only open until 10pm, but this is Milpitas. Some people have to work in the morning, you know.
Best Place to Rise Above
Ed Levin County Park. 3100 Calaveras Road, Milpitas 408.262.6980. As a city hemmed in by Interstates 880 and 680 and dominated by the automobile, finding a patch of green away from the congestion can be a tall order. But mighty Ed Levin County Park is the place to do it. Located in the eastern foothills above Milpitas, the 1,539-acre park boasts a wide variety of activities including a 19-mile trail for hikers, cyclists and equestrians, lake fishing, model sailboat racing, picnicking and camping. There's also an 18-hole golf course. To really get away from the hubbub below, check out the Wings of Rogallo Hang Gliding Club. The organization claims Levin Park as its home base and hang gliders have been launching from these grassy hills since the 1970s. The park is great for beginning hang gliders because of terrain that offers launch sites at altitudes that range from an easy 40 feet to a lofty 1,750 feet.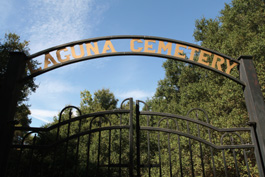 Laguna Cemetery: spooky!
Best Place to Get the Creeps
Laguna Cemetery. 3100 Calaveras Road, Milpitas 408.262.6980. Milpitas used to be a pretty wild place. It was once home to Ohlone indians, missionaries and pioneers. Between 1863 and 1912, many of these missionaries were buried in the Laguna Cemetery in Ed Levin County Park. Like many cemeteries, Laguna Cemetery is reported to be haunted. This claim gains momentum not through hokey ghost stories but through the current state of the cemetery. To protect it from vandals, the cemetery was closed, and the remaining headstones removed for historical documentation. That's right—it's filled with scores of unmarked graves. Today, the gates are locked, but there is an educational memorial erected in front. As you read up on the place, look out onto the 2 acres of overgrown grass and nameless tombs, and contemplate why the gates remain locked. (Answer: people are dying to get in.)
Best Place to Find Shopping Nirvana
The Great Mall of The Bay Area. 447 Great Mall Dr., Mipitas 408.945.4022. In a city that sprang up among some of the Bay Area's busiest freeways and highways, it's fitting that the Ford Motor Company created Milpitas. In the 1950s, Ford wanted to build a sprawling assembly plant in unincorporated San Jose, but city officials said no. Undaunted, Ford petitioned local residents to break away from San Jose and create a new (and car-plant-friendly) city. Residents said yes, and the city was incorporated in 1954. Ford built its plant, but foreign competition eventually forced the plant's closure in 1983. Ten years later, the city worked with developers to create the Great Mall of the Bay Area on the site of the old car plant, replacing one car-dependent industry with another. Not only does the Great Mall have its own freeway exit, it's the largest single-level mall in California, with dozens of retail stores ranging from the Sharper Image to Abercrombie and Fitch. Looking for a little exercise to walk off those Cinnabon cinnamon buns? Great Strides is a free mall-walking program sponsored by Kaiser Permanente, Milpitas recreation services and the Great Mall. Members get store discounts, free quarterly breakfast events with guest speakers, health-related programs and incentive prizes when they reach walking milestones.
Best Place to Find Art in Your Park
Art in Your Park. 142 N. Milpitas Blvd. #330, Milpitas 408.946.4005. Who says you have to go to a museum to get your fill of art? Look no further than your local park. Through a project aptly named Art in Your Park, the city of Milpitas has joined with local artists to build a city filled with public art. At Hillcrest Park, for example, children pressed their hands into tiles that went into a pyramidlike sculpture titled "Hands Around the Park." Other park art includes a large sundial, bronze sculptures of children cartwheeling and a large mosaic star. The vision behind Art in Your Park comes from the Milpitas Alliance for the Arts, a nonprofit dedicated to the promotion of visual and performing arts in Milpitas.
Best Long-Awaited Return Of a Local Landmark
The New Cinema Saver 10. 200 Serra Way, Milpitas 408.263.1800. The Cinema Saver on Calaveras Boulevard was the greatest. Yes, it was a little rough around the edges and the movies were second run, but with tickets set at prices last seen during the Ford administration, nobody minded. And even if the latest Hollywood blockbuster you came to see sucked, who cared? You only spent $3.50, and if it was Terrific Tuesday or Thursday, just a buck fifty. But then the theater closed, and Milpitas—nay, all of Silicon Valley—was a lesser place for it. But word is that theater owner CineLux plans to open a new Cinema Saver theater in the Serra Shopping Center complete with high-backed chairs, Dolby digital sound system and the same cheap-date prices. Hurry up and open, would ya?
YOU CHOSE: Best Pho
Pho Nam No. 3. 41 Serra Way, Milpitas 408.956.9627. Earning the distinction for the best bowl of pho is no small thing. Silicon Valley is a pho lover's paradise. The Vietnamese beef noodle soup is one of the South Bay's signature dishes and there are literally hundreds of restaurants hawking the stuff. But not all bowls of pho are created equal. According to Metro readers, Milpitas' Pho Nam is tops. The tidy restaurant is packed with noodle lovers at lunch. Try the house special, a steaming bowl of rich, aromatic broth, a tangle of springy noodles and a combination of steak, lean brisket, tripe, tendon and flank steak. A small is plenty and will only set you back $5.10. You're not expected to finish all the broth, but it's so delicious you just may. Earn extra points for pronouncing the soup "fuh" instead of "foe" when you order.
Send a letter to the editor about this story.