September 20-26, 2006
home | metro silicon valley index | features | silicon valley | feature story
Best of Silicon Valley 2006:
Intro | The Short List | Campbell | Cupertino | Gilroy and Morgan Hill | Los Gatos | Milpitas | Mountain View | Palo Alto and Menlo Park | San Jose | Santa Clara | Saratoga | Sunnyvale | Willow Glen | Readers' Choice—Food & Sustenance | Readers' Choice—Love & Romance | Readers' Choice—Arts & Culture | Readers' Choice—Shopping & Services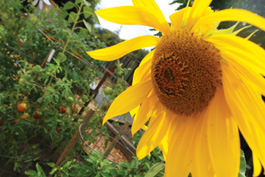 Sunnyvale folks grow their own produce at Charles Street Community Gardens.
Best of Silicon Valley 2006
Best of Sunnyvale
Best Place to Meet The Neighbors
The San Francisco Bay Trail. Sunnyvale Baylands Park, 999 E. Caribbean Dr., Sunnyvale. It takes a certain moxie to build a dirt road alongside piles of sewage, trash and mud and call it a scenic hiking trail. But it takes vision, skill and a playful sense of irony to combine them in such a way that it has become a great place to get out and see your neighbors enjoying the scenery. That what visitors to Sunnyvale's San Francisco Bay Trail Connection will find. The trailhead, located next to the city's sewer treatment plant, is playfully flanked by a drinking fountain daring hikers to try it and a self-contained Porta Potty pungently advocating on behalf of the treatment plant. A 2.5-mile walk takes visitors past a giant landfill that resembles a Mayan temple under a stop work order, along swampy fields of gently swaying cattails ending at the softball complex Twin Creeks and Sunnyvale's Baylands Park. Another trail heads up atop adjoining levees from which you can look down into a giant vat of sludge endlessly churning like some macabre Stephen King merry-go-round. What these trails have in common is a stunning and rare panorama of a (mostly) unobstructed, undeveloped, undisturbed essence of nature that is marginalized into urban mythology in the concrete jungle of the South Bay.
Best Taste of Days Gone By
C.J. Olson Cherries. 348 W. El Camino Real, Sunnyvale 800.738.BING. If Silicon Valley were still covered with fruit orchards like it was 75 years ago, chances are few of us would live here. I mean, where would you work? The fruit packing shed or the orchard? Progress meant plowing under the fertile orchards in favor of housing and new businesses. The days of the Valley of Heart's Delight are all but gone, but you can still get a taste of what it was like at Sunnyvale's iconic C.J. Olson fruit stand on El Camino Real. While not all the cherries they sell are grown in Sunnyvale anymore, the Bings and Rainiers are juicy and sweet. During the off-season, check out the dried fruit (cherries, apricots, figs and dates), nuts, chocolates, jam, honey and other incredible edibles.
Best Growing Concern
Charles Street Community Gardens. 505 W. Olive St., Sunnyvale 408.735.8154. Sunnyvale finally has a community garden it can call its own. After years of work by master gardener Josh Salans and green-thumbed volunteers, the nonprofit group Sunnyvale Sustainable Gardening entered into a five-year agreement with the city for a community garden on a vacant lot at Charles and Olive streets, city-owned land once slated for City Hall expansion. The garden will offer more than 100 garden plots for Sunnyvale residents. The grand opening of the gardens will be Oct. 1. Dubbed the Charles Street Gardens Fall Harvest Festival, the free community event will include garden tours, vegetable tasting, activities for kids and master garden demonstrations.
Best Place to Drink Sake and Pretend You're in Tokyo
Saizo. 592 E. El Camino Real, Sunnyvale 408.733.7423. If you were a Japanese salaryman (or woman) out for a night of drinking with the boys, you'd head to an izakaya-style restaurant. Part pub, part eatery, izakaya restaurants serve small plates of grilled and fried dishes made to go with sake and beer. While sushi bars and ramen houses in Silicon Valley abound, izakaya restaurants are a rarity. That's why Saizo is such a find. The izakaya menu is divided into grilled and fried items. Prices range from $1.25 to $9.75, so you can order a wide variety of food for little money. Some of the food, such as the beef tripe, eel liver and beef tongue, may put off the less adventurous. If that's you, start with something tamer like the wasabi chicken skewers. While Saizo's specialty is izakaya-style dishes, they do offer noodles, dinner entrees and ochazuke, broth-filled iron pots to which you add various grilled and raw seafood.
Best Sunnyvale Shopping Block
Murphy Avenue. For shopping excitement in Sunnyvale, South Murphy Avenue has it all. The spiritual and geographic center of downtown Sunnyvale, it may be only a single block, but a lot has been packed into its small frame. For more than a decade, Murphy Avenue has hosted a popular farmers market year-round every Saturday. The market features fresh seasonal vegetables, herbs, breads, meats and flowers. Local bands also add musical spice to the lively street scene. In addition to the farmers market, Murphy Avenue's brick and mortar residents also enliven the lifeless atmosphere engulfing the adjacent Sunnyvale Town Center, currently home to an empty husk of a mall that has been awaiting the wrecking ball for more than two years. Murphy Avenue boasts a dozen restaurants cutting a wide cultural swath, two coffeehouses, a bookstore, belly dance supplies, a clothing and jewelry boutique and a host of businesses that have been staples of the street for more than two decades, including Murphy Street Smoke Shop, Thuy Tailor and Cleaners and Paul and Harvey Cocktails.
Best Spot to Find 30 Years' Worth Of Laughs
Rooster T. Feathers Comedy Club. 157 W. El Camino Real. 408.736.0921. Let's be honest. When it comes to nightlife offerings, Sunnyvale is no Las Vegas. But the city is home to Rooster T. Feathers, one of Silicon Valley's premier comedy clubs. For nearly 30 years, Rooster's has been an important stop on the national comedy circuit. The club has hosted Jerry Seinfeld, Robin Williams, Ellen DeGeneres and Drew Carey. Week to week, the El Camino Real club offers standup comedy in an up close and personal setting. For the aspiring Don Rickles, Rooster T. Feathers also offers its "comedy workstation," comedy classes taught by experienced coaches who provide instruction in the comedic arts.
You Chose: Best Mediterranean
Best Middle Eastern Restaurant
Dishdash. 190 S. Murphy Ave., Sunnyvale 408.774.1889. Dishdash won over Metro readers for serving what other Middle Eastern restaurants don't. Drawing on food from the culinarily diverse Middle East, Dishdash goes well beyond the falafels, hummus and kebabs that dominate the menus of most Middle Eastern restaurants. Using recipes gathered from his Palestinian mother, owner Emad Ibrahim has put together a menu that celebrates the glories of his native Palestine and beyond. Lamb dishes are particularly good. Tabsi combines seasoned cubes of ground lamb and beef in a rich, viscous sauce of eggplant, onions, bell peppers and tomatoes enlivened with curry and the unique, salty-sour flavor of dried lime. Sabanech is another winner. It's a meaty, slow-braised lamb shank that could pass for a rustic Italian dish. Dishdash also has a well-chosen wine list, something that distinguishes it from most Middle Eastern restaurants as well.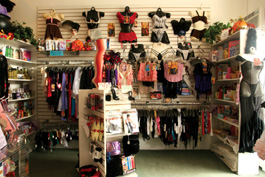 Lingerie and accessories at Magical Moments.
Best Lingerie
Magical Moments. 136 E. Fremont Ave., Sunnyvale 408.733.1670. Like certain parts of the female anatomy, Magical Moments can be hard to find. But that seems to be by design. The small, intimate shop offers a discreet yet supportive environment for all your libidinous shopping needs. The store's staff prides itself on its knowledgeable customer service. Two of the store's three employees have been there for 15 years or more. Magical Moments, which is celebrating its 20th anniversary this year, offers sexy underwear (including plus sizes), adult DVDs, sex toys, nipple clamps, how-to guides and the bestselling "pearl rabbit" vibrator famously featured in an episode of Sex and the City. Be sure to check out the "Liberator," a ramplike piece of bedroom furniture that's purported to facilitate new sexual positions. It's supposed to make coupling easier for people with bad backs, too. So if your back isn't only thing that's kinky, the Liberator—and Magical Moments—is for you.
Send a letter to the editor about this story.