September 20-26, 2006
home | metro silicon valley index | features | silicon valley | feature story
Best of Silicon Valley 2006:
Intro | The Short List | Campbell | Cupertino | Gilroy and Morgan Hill | Los Gatos | Milpitas | Mountain View | Palo Alto and Menlo Park | San Jose | Santa Clara | Saratoga | Sunnyvale | Willow Glen | Readers' Choice—Food & Sustenance | Readers' Choice—Love & Romance | Readers' Choice—Arts & Culture | Readers' Choice—Shopping & Services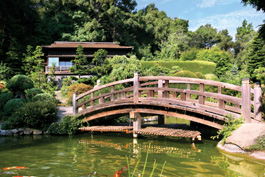 A bridge over untroubled waters at Hakone Gardens.
Best of Silicon Valley 2006
Best of Saratoga
Best Way to Get Personal With Your Chocolate
Saratoga Chocolates. 14572B Big Basin Way, Saratoga. You knew you could monogram your towels, and your robe and your watch. But your chocolates? At Saratoga Chocolates, you can. Chocolatier Mary Loomas is redefining edible art—if designing is not enough, you can order variations on the flavor, shape or color of the store's standard selection of over 20 confections. Take it a step further and really get your hands dirty in a chocolate-making class. In 3 1/2 hours, classes of six students will each make 30-50 truffles to take home. The Saratoga store has plenty of freshly made eye candy if the hands-on approach isn't your speed—although this also requires some work. There is just enough room in the sky-blue shop to crowd around the counter while you make the difficult decision of picking from each specialized flavor.
Best Place to Forget You're In Busy Silicon Valley
Hakone Gardens. 21000 Big Basin Way, Saratoga. All it takes is 4 bucks and some steep uphill driving to be transported out of the valley's hustle and bustle to the serenity of traditional Japanese gardens. Hakone Gardens is 18 acres of maple and plum trees, tea plants and other harmonious flora that make you want to take up tai chi or at least drink some tea. The authentic landscape was even used as a backdrop in many scenes from the movie Memoirs of a Geisha. City noises are drowned out by babbling waterfalls and 60-foot-tall bamboo hide the smoggy sky. Koi fish swim under the moon bridge with turtles that nag each other—as if in domestic disputes—and fight for space on sunning rocks. The occasional banana slug sighting is one of the few reminders of outside life. Guess they upgraded from the redwoods.
Best Place to See the City Lights
Pierce Road, Saratoga. Some—well, most—of the homes that line Pierce Road in Saratoga could be contenders in what would surely be a bitterly contentious "Best Silicon Valley Address" category. These homes are perched on prime property that offers a breathtaking, postcard-worthy view of the valley, adding a few zeros to their price tags. But this street's Tuscan-style villas didn't earn a spot on our list for architecture alone. Even if you could only afford a three-story box in these hills, the Lover's Lane setting warrants the romantic drive. If ever there were a chance of a little tonsil hockey, gazing over the sparkle of the illuminated city would do the trick. Head up Pierce, then turn left on Sarahills Drive. On the way, coo about one day owning a villa and an adorable dog named Fido, then pull off the road at the overlook of your choice. Comment on how the stars shine in your date's eyes and sweetly lean in, silently thanking your lucky stars Metro let you in on this Saratoga gem.
Best Place to Find Everything You Never Knew You Needed
Kristy's of Saratoga. 14531 Big Basin Way #19, Saratoga. Somewhere between a Parisian flea market and a swanky Santana Row boutique is Kristy's of Saratoga. The shop is filled with treasures. Some are old, others made to look old and others brand new. There are handmade glass pumpkins in every shape and color imaginable, light fixtures Kristy Kent picked in a dark store in Italy, terracotta flying pigs and tons of other "home and garden unessentials." Walking to the back of the store is a worthwhile challenge. Kent's 10-year-old store is a converted garage and side yard, which only adds to the shop's quirky atmosphere—in a good way. Just when you thought you had seen it all, another retro sign peeks out, or you turn around, eye-level to a funky black necklace with a bird pendant. If you still haven't found what you're looking for, you probably haven't looked long enough. But fear not, Kent's services also include helping to track down desired items and decorating backyards.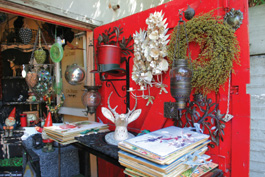 It doesn't get more eclectic than Kristy's of Saratoga.
Best Place to Learn Gymnastics On Top of a Moving Animal
Garrod Farms Stables. 22647 Garrod Road, Saratoga. Learning to dismount off a moving horse is probably not your idea of a kid's standard Saturday afternoon sporting event. Most children have soccer games or swim lessons, not an hour of practicing flags and mills and scissors—all basic moves taught to all ages in a drop-in vaulting class at Garrod Farms. Kids as young as 4 years old, depending on their ability to focus while cool tractors go by, learn the basic techniques. Most who come to the $15 session are teenage girls, but Marianne Rose, vice president of the Mt. Eden Riding Club at Garrod Farms, says she doesn't understand why every adolescent boy in the world isn't there to join the bunch of healthy girls in Spandex. Whatever the motivation to get there, the outcome is an increased connection with the horse, techniques that can be used in emergency situations and, of course, bragging rights.
YOU CHOSE: Best Wine Bar (Runner-up)
Uncorked. 14500 Big Basin Way, Saratoga. After a long day at the office, you want wine—not whine. No snobby connoisseurs either. Uncorked's promise is just that; there's no attitude at this Saratoga shop. What there is, though, is a large selection of fine wines and an array of classes and clubs suited for every interest level. You can sit and enjoy a bottle on location, or consult a knowledgeable employee and get one to go. Wine club members get the perk of purchasing bimonthly selections before they are sold in the store, and then get a discount on that selection for the rest of the month. Two-hour classes offer appetizers and plenty of tasting, making learning fun again. There are no pre-reqs for this wine spot; their only request is that you don't wear fragrance in the shop.
Best Open-Mic Night (Runner-up)
Blue Rock Shoot. 14523 Big Basin Way, Saratoga. Forget the extensive menu—which ranges from bagels to Margaritas to gelato—Blue Rock Shoot is all about foot traffic. The cafe/coffeehouse is usually bustling, especially Wednesday through Sunday nights, when entertainment includes an acoustic open-mic night, comedy and concerts. The casual hot spot is deceptively large, with multiple seating areas and the whole downstairs devoted to performance space. While hanging out, you can't help but kill at least a few minutes watching a range of customers as varied as the giant menu filter in and out. Like oh-so-wise Grandma used to say, "It takes all kinds." Well, they've all found their way to Blue Rock Shoot. Customers run the whole gamut, from men in suits toting laptops to those in leather biker gear and back again to indie teens and cute ladies in from the knitting shop down the street. Grab a bite, then see and listen for what comes in next.
Best Day Spa
Preston Wynne. 14567 Big Basin Way, Saratoga. Happy Hour just got a little better at Preston Wynne. Sure you can stuff your face with cheap wings and booze at almost any bar, but the offer of decadent chocolate, bubbly champagne and a heated neck wrap with a luxury manicure at a nail bar takes the cake, ladies. This Saratoga spa has been around for over 20 years and they know how to pamper—whether it is in a sleep-inducing pedicure chair, a duetto massage room or a deep-soaking tub. Preston Wynne offers facials, massages, peels and more that will help cure ailments and defy age and gravity. Menopausal, pregnant, sun-damaged, stressed? Help is on the way. (One thing at a time.) Men need not feel left out. There are tailored male manicure treatments, and although pregnancy or menopause treatment isn't needed (well, maybe menopause), what man wouldn't want a deep-tissue massage or fresh facial? If not, at the least there are comfy waiting rooms stocked with fruit and other healthy goodies while they wait.
Best Place to Blow Off Your Low-Carb Diet
La Fondue. 14510 Big Basin Way, Saratoga. Everyone has their indulgences. Some treat their feet to $400 designer shoes, others buy high-tech gadgets. But no matter what your other retail splurges involve, La Fondue is how it should be done in the food realm. "What diet?" must be your attitude. Scrimping is not an option when mulling over the menu's more than 50 fondues. There are nine kinds of cheese fondue alone. Besides the endless meal choices, the restaurant is a great date spot. It was also recognized in Metro's "Best Fondue" category, and was voted runner-up Best Romantic Restaurant for the second year in a row. Although the 28 tables are almost always full, the atmosphere is still intimate. After 10pm, La Fondue offers another great date possibility, chocolate fondue with pieces of fruit and other goodies (just don't dribble chocolate down your shirt like a man I was with). And another word from the wise: Don't just order a salad, you'll regret it. Take a walk in charming Saratoga after dinner; tell yourself you'll walk it off.
Send a letter to the editor about this story.