September 20-26, 2006
home | metro silicon valley index | features | silicon valley | feature story
Best of Silicon Valley 2006:
Intro | The Short List | Campbell | Cupertino | Gilroy and Morgan Hill | Los Gatos | Milpitas | Mountain View | Palo Alto and Menlo Park | San Jose | Santa Clara | Saratoga | Sunnyvale | Willow Glen | Readers' Choice—Food & Sustenance | Readers' Choice—Love & Romance | Readers' Choice—Arts & Culture | Readers' Choice—Shopping & Services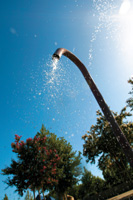 Interactive dousing at Lincoln Glen Park's fountain.
Best of Silicon Valley 2006
Best of Willow Glen
BEST Disease-Free Interactive Fountain
Lincoln Glen Park. Radio and Curtner avenues, San Jose. Those Mercury News stories about the Plaza de Cesar Chavez water fountain getting shut down on account of kids contracting diarrhea were a bit on the "duh" side. A bunch of curtain climbers flopping around in sopping wet diapers through dirty recycled water = just asking for a case of mud butt. Seven confirmed cases of cryptosporidiosis—a diarrhea infection—and possibly 15 recent cases of salmonella have been tied to the now-capped fountains in Plaza de Cesar Chavez. It'd be safer to let your kid ride in a Safeway shopping cart. But at Lincoln Glen Park—opened in 2002 at the corner of Curtner and Radio—fresh, potable water is pumped through its interactive fountain. And it's a swell environment with nice lawn, play structures, bathrooms and parking. Some shady trees would be nice, but it's a small ding compared to caring for a toddler shooting battery acid out of his behind.
BEST Local Blogger
Taxi Vignettes. Joannrides.blogspot.com. Joann Landers is a Willow Glen resident with an interesting job: she drives a taxicab. She is also an excellent gauge of personality, as her blog—Taxi Vignettes—details the sometimes oddball fares she picks up and the more surreal things that happen when you drive strangers for a living. A few who have dented her seat cushion are recognizable—Grand Prix winner Sebastian Bourdais, NFL referee Bill Leavy, Elizabeth Dole. Her digital camera captures other folks hanging around the airport: Tommy Lee, Bob Dole and DNC chairman Howard Dean. But good reading happens with just ordinary folk and her observations of the city from the dashboard. She lays out the swag that people leave as a gesture of kindness—red roses, Giants tickets, fresh eggs, gift cards and a bottle of holy water from Lourdes, France. She also gives insight on how never-ending "improvements" at Mineta affect travelers' impressions of the city. On the road for 23 years, this Yellow Cabbie has her eyes and ears to the street, catching people and the city from a prime vantage point.
BEST Wall of Fame
Taiwan Restaurant. 1306 Lincoln Ave., San Jose 408.289.8800. While waiting for a table at Taiwan, hungry Willow Glenites tap their toes checking out the restaurant lobby's Wall of Fame—a motley crew of celebrities that chowed down on Eastern delicacies at the Lincoln Avenue eatery. The photos go back decades with some sad-sack '70s fashion disasters: a crumpled-looking Warren Beatty in full "Shampoo"-era winged-hair glory; Alan Alda enjoying a laugh before an errant Szechuan chile pepper made re-entry later that night; Jerry Rice dancing with hair clippers before he was dancing with the stars; a mid-'80s Mayor Hammer looking much like the Hammer of 2006; former Sharks forward Mike Ricci and his Canuck-fabulous mullet. But the most precious photo is of Barnaby Jones himself, Buddy Ebsen, holding a menu, looking pensive but ready to get his kung pao on. Comic Bob Rubin liked to joke that "Buddy Ebsen's got a big head," but from the picture, Ebsen clearly had a regulation-size melon and an ego to match.
BEST Mexican Meal to Try Before You Die
The Molcajete Grill Supreme at Puerto Azul. 1072 Lincoln Ave., San Jose 408.297.1300. You're facing court-ordered entry into the witness-protection program, never to grace the South Bay again. The mind wanders, what the hell am I going to miss most? Among the short list—family, the dog, WiFi, Kaiser Permanente's excellent health care—should be the valley's Mexican food. Willow Glen represents lovely on that end with excellent edibles from Aqui, Taqueria Tlaquepaque, Mexico Lindo, Mi Rancho and the new Super Taqueria. Yet there is nothing like the ornately painted Puerto Azul and its signature dish: the Molcajete Grill Supreme. Served in the volcanic rock of its name, the gargantuan meal is a daring mixture of shrimp, beef, chicken, peppers and onions bathed in a green chile and nopales sauce. It contains enough calories to wipe out a weekend of intense free climbing, but the memory of the savory supper will linger long after you've assumed a new identity in a city far away.
BEST Lollipops
Kendon Candies. 460 Perrymont Ave., San Jose 800.33-CANDY. www.kendoncandies.com. Based in an industrial park on the outskirts of Willow Glen, Kendon Candies quietly operates the third-largest lollipop business in the United States. Lollies swirled in psychedelic colors come in the shape of teddy bears, daisies, butterflies, sea shells, shamrocks and the phallic "Round-Up." They ship everywhere, even internationally, but this isn't a hard-ass Trump-like organization or a whimsical Wonka-themed candy shop. There is no display case with a bell on the door—just a simple office with a couple of computers and a production building behind it. Kendon Candies is a family-owned business with more than 50 years of experience. They sell amounts large and small, even blemished lollies are unloaded at a discount, some as low as a couple bits apiece. That's a sweet deal.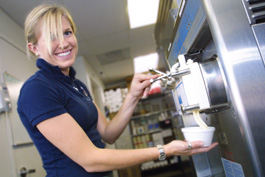 Kelly Lund of Willow Glen Frozen Yogurt Company.
BEST Frozen Dessert and Wall Spackling
Frozen Silk Custard at Willow Glen Frozen Yogurt Co. 1098 Lincoln Ave., San Jose 408.292.5961. Unlike its mushy counterpart frozen yogurt, the frozen silk custard is a unique dessert treat. Its creamy texture is hearty, able to withstand heat, humidity, high winds, dog breath and hard left turns. Willow Glen Frozen Yogurt Co. is the sole local depot for this Midwestern treat. Available in vanilla (and chocolate, on weekends only) and extruded into a Styrofoam cup, the dense adhesion would survive a rough drive to Campbell and back. If competitive eaters are looking for a challenge, frozen silk custard would be a lethal one. But the best way to enjoy a cup is through a long, pleasurable lick session. Try this dessert once and be sold. You'll swear off Fro-Yo forever, yo.
YOU CHOSE: BEST Flower Shop (Runner-Up)
Flower Flour. 896 Willow St., San Jose 408.279.0843. Hot dogs and mustard, kimchi and rice, peanut butter and chocolate, and now, petunias and paninis? Flower Flour—the small Parisian cafe on Willow Street—excels at both. Flower Flour makes it work with a shortlist of delicious dishes and freshly baked pastries on the Flour side and blooming bouquets appropriate for a night stand or veranda on the Flower side. Very yin-yang. And with all the boring Starbucks invading Willow Glen, it's nice to be able to sip a coffee drink, break into a croissant and admire a freshly purchased handful of calla lilies instead of a lousy CD rack. Now if Flower Flour expanded into consignment furnishings, they could hook up with Casa Casa on nearby Lincoln. And if they got Talk Talk and Duran Duran to play the opening-day party—that would truly be serendipitous.
Send a letter to the editor about this story.