September 20-26, 2006
home | metro silicon valley index | features | silicon valley | feature story
Best of Silicon Valley 2006:
Intro | The Short List | Campbell | Cupertino | Gilroy and Morgan Hill | Los Gatos | Milpitas | Mountain View | Palo Alto and Menlo Park | San Jose | Santa Clara | Saratoga | Sunnyvale | Willow Glen | Readers' Choice—Food & Sustenance | Readers' Choice—Love & Romance | Readers' Choice—Arts & Culture | Readers' Choice—Shopping & Services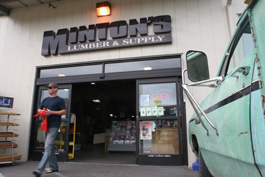 Minton's: Keeping lumber independent.
Best of Silicon Valley 2006
Best of Mountain View
Best Place to Pursue Caffeine-Induced Enlightenment
Sufi Coffee Shop. 815 W. El Camino Real, Mountain View 650.962.9923. For a dose of Eastern mysticism and good, old-fashioned caffeine, head to the Sufi Coffee Shop, a few blocks from Mountain View's downtown strip. The coffee is roasted in half-pound batches and is one of the few places in the Bay Area where each cup is individually brewed. That alone should attract true coffee lovers. Meanwhile, the coffeehouse itself is drenched with Sufic themes, complete with an artfully decorated interior and a semioutdoor garden seating area, where coffee drinkers can easily get lost in the greens and bright colors of a Persian garden transported to the South Bay. Persian and Arabic language books on spirituality line the bookshelves, and the owner, a former Iranian professor, is usually around to answer any questions from the spiritually curious.
Best Urban Experience in a Silicon Valley Suburb
Castro Street. Downtown Mountain View. When the downtown of your closest big city is just not doing it for you, you have to consider other options. Castro Street, lined with some of the finest restaurants in the South Bay, as well as plenty of other attractions, is our nomination for the South Bay's best suburban-downtown strip. Other locales, of course, have their merits—upscale Los Gatos and Saratoga, uppity Palo Alto—but Castro equals them all, with the added X-factor of a certain down-to-Earth vibe. Whether you're looking for a good bookstore (and there are five to choose from) or a bite to eat (there are restaurants inspired by at least 12 different global regions), Castro Street has the answers. Particular favorites include the East West Bookshop and Monsoon Cuisine of India.
Best Place to Let Your Dog Run Unleashed
Mountain View Dog Park. Shoreline Boulevard and North Road, Mountain View. It's a well-known fact among dog lovers that the South Bay is lacking suitable dog parks. Neighborhood meetings regarding the shortage often are standing-room only and can get pretty rowdy. San Francisco, with its plentiful dog parks, is doing it right, outraged dog owners say. And, with local schools cutting back on no-look policies that formerly allowed dog owners and their pets to enjoy their grassy fields after school hours, things have been looking decidedly grim of late. The Mountain View Dog Park, however, offers a ray of hope, a place where people and their four-legged friends can go and just, well, hang out—no leashes required. Built on two-thirds of an acre off Shoreline Boulevard and open at the crack of dawn every day, the park offers several amenities, including separate, fenced-off areas for small and large dogs, decomposed granite fitted with sprinkle heads to keep the dust down, wooden benches and, of course, complimentary pooper scoopers.
Best Place to Achieve Nirvana On the Club Circuit
Buddha Lounge. 251 Castro St., Mountain View 650.965.7665. The large, wooden Buddha bust beckons in downtown Mountain View after the sun goes down. The attempt at hipness may seem out of place in tiny Mountain View, but it's been reported that Thursday nights are the nights to go (the truly hip people head to San Francisco on the weekends). The Buddha Lounge includes two bars and two floors, the upper perhaps being the better choice, featuring plush couches and dark intimacy as well as a balcony that allows the shy to look down at the braver souls out on the dance floor.
Best Secret Agent Dining Spot
Rose International Market. 1060 Castro St., Mountain View 650.960.1900. The kebabs offered here are excellent, but it's the process that's most intriguing. Here's the deal: Say you have a hankering for kubideh kebab, some rice and a yogurt drink. You stroll inside the Rose Market and order your food at the register. You are given yellow tickets with numbers on them. You wait around. Then you wait some more. Finally, you ask what you are supposed to do to get your kubideh. You're pointed toward the deli to pick up your rice, the opposite end of the store to pick up your yogurt drink, and then asked to exit the market, walk around the back of the building, where you will find a supersecret window, through which you will see men cooking kebabs. Here, you will get your meat. The first-time visitor can go batty trying to figure all this out, but once you get your complete meal, it's well worth it. Trust us.
Best Corporate Present to a Community
Free Citywide WiFi. Mountain View. From arguably Mountain View's most famous residents comes one of the best presents a city could imagine. Google, a few months late, launched a free wireless Internet for all of Mountain View—businesses, residents, visitors—this past August. While a few other cities have introduced this service, Google's involvement gives top honors to Mountain View. Anyone with a laptop can get the "GoogleWiFi" signal, and while it may be a tad slower than what you're used to, considering it's serving an entire city, it's absolutely free. In a company blog, a Google official gave two reasons for bequeathing the service to Mountain View: (a) to give back to the community; and (b) to make Mountain View into a national example in encouraging others to do the same. Any reason they give is fine with us.
YOU CHOSE: Best Alternative to Home Depot
Minton's Lumber & Supply. 455 W. Evelyn Ave., Mountain View 650.968.9201. Minton's in Mountain View began in 1911, when Earl D. Minton and his bride honeymooned from Nebraska to California. His father had bought an existing hardware store, and his son's task was to operate it. That lumber store, now Minton's Lumber & Supply, stayed in the family for several decades and then in 1971 was transferred to an employee, who kept the Minton name. Locals have helped the company grow by remaining loyal to its independent spirit, a task that may seem difficult in the current strip mall age.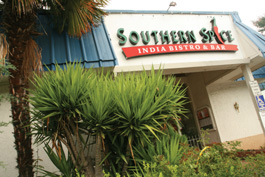 Southern Spice, home of our reader's favorite all-you-can-eat buffet.
Best All-You-Can-Eat Lunch Buffet
Southern Spice. 2700 W. El Camino Real, Mountain View 650.948.0123. Southern Spice opened in Mountain View last October, and its pick as the best lunch buffet demonstrates Silicon Valley's mind-boggling diversity. The most popular all-you-can-eat buffets have traditionally been the realm of good, old-fashioned American food: mashed potatoes, fried chicken, greens, you name it. Southern Spice, however, specializes in Andhra food, mostly vegetarian fare originating from the south Indian state of Andhra Pradesh. Their menu is not just a menu, but a "Spicy Menu," and for good reason. The dishes may put you to your spice-tolerance limit, but it's well worth it. Malai kofta, lentil and vegetable dumplings with homemade cheese, ulli pakodi, or onion fritters, beckon and distinguish Southern Spice from the several cookie-cutter Indian restaurants in the valley.
Best Pilates Studio (Runner-up)
Center of Balance. 1220 Pear Ave. 1, Mountain View 650.967.6414. Need the abs in shape? Try Center of Balance in Mountain View. Silicon Valley tech life may be overwhelmingly office related, but there's no need to get out of shape. With a convenient location on Mountain View's historic Pear Avenue, Center of Balance is a focal point for health-conscious techies.
Best Theater for Making Out In (Runner-up)
Century 16. 1500 N. Shoreline Blvd., Mountain View. Century 16 nabbed the top spot last year, and slipped to No. 2 this year. No matter, the theater is still one of the best for your romantic moment. At the movies, the million-dollar question has always been: do romantic movies induce more romantic activities, or do movie-goers get biz-zay without regard for what movie is playing? With its proven track record for ending up on our Best of Silicon Valley lists, we've got to think that Century 16 could get audiences worked up during Leaving Las Vegas.
Send a letter to the editor about this story.