September 20-26, 2006
home | metro silicon valley index | features | silicon valley | feature story
Best of Silicon Valley 2006:
Intro | The Short List | Campbell | Cupertino | Gilroy and Morgan Hill | Los Gatos | Milpitas | Mountain View | Palo Alto and Menlo Park | San Jose | Santa Clara | Saratoga | Sunnyvale | Willow Glen | Readers' Choice—Food & Sustenance | Readers' Choice—Love & Romance | Readers' Choice—Arts & Culture | Readers' Choice—Shopping & Services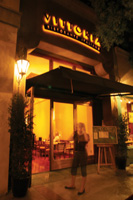 Vittoria's open-air entrance to Los Gatos' main drag.
Best of Silicon Valley 2006
Best of Los Gatos
Best Kept Dining Secret on Santa Cruz Avenue
Shish Kebab. 217 N. Santa Cruz Ave., Los Gatos 408.354.2002. You know the story. It's a weekend night in Los Gatos, and Santa Cruz Avenue is packed. Pedro's? Thirty-minute wait. Willow Street? Same. Any sushi place? Keep dreaming. You're so hungry you're considering barging into the Sur La Table cooking class and declaring that you're the "Food Inspector," who must sample each student preparation to determine if it meets the State of California's "Official Yum Standards." Don't do it ... again. Instead, take a deep breath and hoof it up the street to the fantastic Shish Kebab. Now, this place is often overlooked on Los Gatos' main drag because the exterior is unassuming to a fault, and the name suggests some kind of Mediterranean fast food. But nothing could be further from the truth, as you'll see when you step inside. You'd be hard-pressed to find eggplant done more deliciously anywhere in Los Gatos, so try the Ghemeh Bademjan, or sample it along with several of Shish Kebab's top tastes in the Mediterranean platter. By the way, this is a great spot for vegetarians, and absolutely everyone should try the cherry rice, either on its own (Albaloo Polo) or served with another main dish.
Best Place for Sushi So Fresh It May Hop Off Your Plate
Sushi on the Run. 114 N. Santa Cruz Ave., Los Gatos 408.354.1125. It is not overstating the case to say that you have not truly experienced fresh sushi until Sushi on the Run owner and chef Nobo Eguchi sets his handiwork in front of you. OK, it may be slightly overstating the case, but it feels true—that's how powerful an experience at this place can be. Here's how it works: You sit at the bar and rattle off to The Master what you want. Congratulations, you have just initiated a process that may change your relationship with sushi. Nobo mentally puts your selections in the proper order for serving, then crafts the first roll, and reaches over the bar to place it directly in front of you on your plate. There is no middleman. This can be shocking for some newbies at first—not everyone has had a chef literally hand them their sushi. But it does not take long to realize that this is a beautiful thing—clearly every second is precious at Sushi on the Run. And the results, good god! The fish is so fresh it sometimes seems to melt in your mouth. For innovative rolls try the Ginger Boy, Mr. Garlic, Pat's Homerun and Tropical Madness. Also, a caveat: there are less than 10 stools in the entire place. An experience like this just can't be mass-produced.
Best Place to Find Snakes On a Trail
Lexington Reservoir County Park. 17770 Alma Bridge Road, Los Gatos. Everyone who does the Reservoir Walk has a story about the snake they saw on the trail one time—or more than one time, most likely. But Samuel L. Jackson fantasies ("I have had it with these motherfuckin' snakes on this motherfuckin' trail!") aren't the reason this spot boasts the busiest foot and bike paths in town. The natural beauty here is stunning, especially when you've gone high enough and far enough to overlook the Lexington Reservoir. There are some mean twists on the uphill, making these trails a good workout for all levels of fitness. There's no better way to walk off the day or start a Saturday morning right.
Best Place to Get a Video While You're Waiting for Your Laundry
The Video Store. 540 N. Santa Cruz Ave., Los Gatos 408.395.8590. OK, it's no match for the valley's truly heavy-hitting video stores—the towering American Video Center only a couple of miles away in San Jose, or Videoscope in Mountain View, but the Video Store's got heart, and a real love of movies. The management has also managed to capture a genuine Los Gatos sensibility in its space—a selection that's not huge but is carefully considered, classy, indie and organized with intelligence—making the Video Store feel like a real hometown gem. And since everyone in town seems to do their laundry at Los Gatos Laundry Company right in the same complex, what better place to get DVDs while you wait for the spin cycle?
YOU CHOSE: Best Italian (Runner-Up)
Vittoria. 27 N. Santa Cruz Ave., Los Gatos 408.395.6000. Vittoria is such a natural for Los Gatos' main street that you almost wonder how Santa Cruz Avenue ever got along without it. It's hard to remember that it's only been around a few months, especially considering the crowds it draws. Metro readers are certainly on to it already, and we agree that there's just something about the open-air atmosphere and fine Italian cuisine that makes Vittoria something special.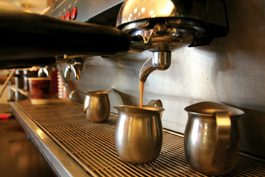 Behind the scenes at Los Gatos Coffee Roasting Company.
Best Coffee Runner-up
Los Gatos Coffee Roasting Company. 101 W. Main St., Los Gatos 408.354.3263. Really, now, is there any more famous hangout spot in Los Gatos—and maybe all of Silicon Valley—than the Los Gatos Coffee Roasting Company? Around here, owner Teri Hope is the patron saint of coffee beans. Unfortunately, this year she could have used an intervention from an officially canonized personage—St. Drogo, protector of coffeehouse owners—when her Palo Alto Coffee Roasting Company got booted from the Stanford Shopping Mall. (The mall's owners kicked her out because they preferred to rent to a national chain, Starbucks, rather than a local independent). In Los Gatos, however, the java party never stops, and the LGCRC is still the best place in Los Gatos to be at 7 in the morning.
Best Desserts
Icing on the Cake. 50 W. Main St., Los Gatos 408.354.2464.
Best Ice Cream
Dolce Spazio. 221 N. Santa Cruz Ave., Los Gatos 408.395.1335.
Best Bakery (Runner-up)
Fleur de Cocoa. 39 N. Santa Cruz Ave., Los Gatos 408.354.3674. Are we sensing a theme here? That's right, baby, Los Gatos is Silicon Valley's sugar daddy! Clearly the entire South Bay is being led by their sweet tooth straight through the dark chocolate heart of LG. In fact, we didn't even have room in the header of this write-up to list all the awards Metro readers gave these three cream-of-the-crop cream croppers (Fleur de Cocoa was also a runner-up in Best Place to Blow Off a Low-Carb Diet category, and Icing on the Cake double-dipped with the Best Bakery category). It's nuts! And caramel! And it proves once and for all that everything doctors tell us about dessert is wrong, wrong, wrong! C'mon, have you ever seen a fat person in Los Gatos?
Best Car Wash (Runner-up)
Lark Avenue Classic Car Wash. 16500 Lark Ave., Los Gatos 408.356.2525. No one ever really gives them credit for it, but Classic Car Wash is one of the top brands in Silicon Valley. It's like Google, then Yahoo!, then Apple, then ... well, OK, maybe CCW doesn't quite have quite that global je ne sais quoi, but we're willing to bet that most of the employees of those three companies who have need of a car wash at all go to one of Classic Car Wash's six locations. What's most interesting is that each area's clients seem to have a fierce pride in their particular location; generally, they don't just write "Classic Car Wash," they write "Delta Queen Car Wash" or "Lark Avenue Classic Car Wash" or "Robertsville" (the Almaden location). Delta Queen and Lark Avenue in particular are repeat top-vote-getters. We're not trying to fuel the rivalry here between Los Gatos Classic washers and Campbell Classic washers, but we gotta represent for the LG. Hey, Campbell, we ain't afraid of no boat!
Send a letter to the editor about this story.