September 20-26, 2006
home | metro silicon valley index | features | silicon valley | feature story
Best of Silicon Valley 2006:
Intro | The Short List | Campbell | Cupertino | Gilroy and Morgan Hill | Los Gatos | Milpitas | Mountain View | Palo Alto and Menlo Park | San Jose | Santa Clara | Saratoga | Sunnyvale | Willow Glen | Readers' Choice—Food & Sustenance | Readers' Choice—Love & Romance | Readers' Choice—Arts & Culture | Readers' Choice—Shopping & Services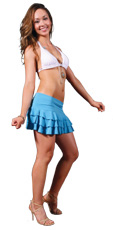 Best of Silicon Valley 2006 Intro
Block Party!
Photographs by Felipe Buitrago
Our readers are really smart. They know that Paradiso Deli in the back alleys of San Jose's old cannery zone is where you want to go for a meatball sandwich, that David Kinch is the valley's best chef and that Streetlight beats the CD store at the mall.
While just about every publication now feels compelled to do their version of the "Best of" (which we introduced to the valley back when a 128k Apple III was considered a fast computer), Metro's Best of Silicon Valley is still the best of the best. Not because of us, per se, but because of one essential secret weapon: our readers. They respond in droves and their ideas and insights are usually much better than ours.
Unlike other poseurs in the industry, we don't charge for write-ups or try to snooker our readers into believing that our brother is the greatest cosmetic dentist in the entire metropolitan region. And each year we try to capture a quintessential valley story on our cover. Last year, of course, it was the Wendy's chili finger. During the dotcom boom it was worthless stock options. And this year, the fact that a budget wonk with a $5 haircut is the frontrunner for mayor and a bookish career prosecutor has hobbled the mayorship of Northern California's largest city with a creative theory about what constitutes a bribe has captivated our attention. So we hired body doubles for Chuck Reed, Julius Finkelstein and Eric Schmidt, called up all of the valley's most beautiful models (or at least all that we had in our PDA), invited them to the sleekly modern Angel's Ultra Lounge and instructed them to take off most of their clothes. Even years after the dotcom bust, it's still true: nerds will inherit the Earth.
One other giant step for Metro's Best of Silicon Valley this year is a theme you'll find in the following pages of our oversize issue: the Block Party. It's a natural—since our readers always seem to find the best neighborhood haunts, it only makes sense to dig down deep into several of the valley's favorite blocks, and bring the party, the way only Metro's Best of Silicon Valley can.
Come as you are!
Send a letter to the editor about this story.