September 20-26, 2006
home | metro silicon valley index | features | silicon valley | feature story
Best of Silicon Valley 2006:
Intro | The Short List | Campbell | Cupertino | Gilroy and Morgan Hill | Los Gatos | Milpitas | Mountain View | Palo Alto and Menlo Park | San Jose | Santa Clara | Saratoga | Sunnyvale | Willow Glen | Readers' Choice—Food & Sustenance | Readers' Choice—Love & Romance | Readers' Choice—Arts & Culture | Readers' Choice—Shopping & Services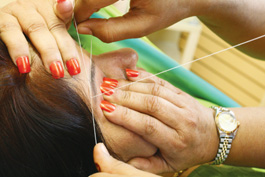 Brows get threaded at Bharat Bazar.
Best of Silicon Valley 2006
Best of Santa Clara
Best Place to Get Your Eyebrows Shaped While You Grocery Shop
Bharat Bazar. 3680 El Camino Real, Santa Clara 408.247.4307. Call it culture shock, but we were a little surprised to see a traditional Indian beauty ritual being performed between the fresh-produce section and the frozen-foods aisle at Bharat Bazar on El Camino Real. It's a hair-removing technique called "threading" that's used in lieu of tweezers and conjures up the image of a bird pecking for food. Only in this case, it's a woman pulling the hairs from another woman's eyebrows by catching them in the knots of a string, which is twisted between her hands and teeth. She maneuvers the contraption by nodding her head back and forth. This meticulous grooming will leave your eyebrows looking sharp enough for a jaunt through the shelves of exotic foods packaged for export and easy preparation: instant idli mix, sandwich chutney in a jar, pre-made chapatis and canned rasgullas floating in syrup. Bharat Bazar is one of the oldest extensions of India in the South Bay and brings together a rich yet unlikely mix of diverse South Asian products (and services, apparently). The Santa Clara location has been around since 1974, and its success has propelled it to minichain status, with larger stores in Fremont and Sunnyvale.
Best Place to See Samba Dancing on Stilts
Chiquy Boom at Avalon. 777 Lawrence Expwy., Santa Clara 408.241.0777. At 5 foot 10 inches, 34-year-old Chiquy Boom already knows what it's like to tower over most women. Put 2 1/2-foot stilts under her, and you've got the world's tallest samba dancer. The Venezuelan immigrant doesn't just wow with her ability to balance on skinny wooden sticks, she puts on a larger-than-life carnaval act, complete with feathered headdress, sequined bra and shimmying fringe. Most women can barely stand up in 4-inch heels, but Chiquy says she's never fallen in the five years she's been performing on 30 inches, not even while swaying her hips to percussive Latin American rhythms. What inspired her to take her dancing to a higher level? "I wanted to do something amazing," she says (aside from her full-time job as a recreation co-ordinator for the city of Morgan Hill). Audiences accustomed to stilt walkers juggling fire or doing magic tricks drop their jaws when they see Chiquy twirling around the dance floor—as they did during her recent appearance at the Avalon nightclub. She joined an esoteric group of entertainers, including Gypsy dancers, magicians and the "cosmic comic" Swami Beyondananda. Avalon often serves as a hub for the countercultural crowd, drawing world music groups, slam poets and swing dancers alike. This year, it slid in as second runner-up for Best Live Music Club. (www.chiquyboom.com)
Best Ghost Hunter
Gloria Young. www.ghost-trackers.org. Over the past 15 years, Gloria Young's adventures tracking ghosts have taken her all over the country. But some of her most memorable encounters with the paranormal happened in her own backyard: Santa Clara. The Mission City's rich colonial history, Young tells us, comes with an equally rich supernatural legacy. Whether or not she's leaning on an overactive imagination we cannot say, but her confident-sounding accounts of the spooky piqued our interest (and our neck hairs). Two years ago, a history buff told her, "There are no ghosts in Santa Clara." "Oh, really?" Young replied. She took it as a dare and set out to prove this naysayer wrong. She sought witnesses with a small ad in the local paper. Nearly 50 letters flooded her mailbox from Santa Clarans describing unexplainable forces unplugging radios, turning on mechanical toys, shaking beds and knocking over lamps. One person even said she heard a ghost grumbling at her through the toilet tank. Another complained that invisible creatures were constantly pestering him by poking his eyeball and pinching his leg. "I am sick of them prodding and pushing on me," he wrote, "Please help." Young was so encouraged by the response that she decided to write a book. She even dedicated the title to that unbelieving city official: "There Are No Ghosts in Santa Clara."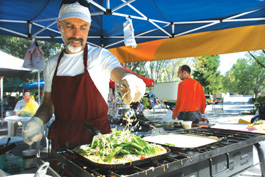 Natan Ibragimchayev prepares a vegan Russian crepe at the Nina's Kitchen booth at the Santa Clara Farmers Market.
Best Place to Get Vegan Piroshki
Santa Clara Farmers Market. Saturdays 9am-1pm. On Jackson Street between Homestead and Benton streets in downtown Santa Clara The truth is, you'd be lucky to find vegan piroshki anywhere. We didn't even know the meat-free, egg-free, dairy-free, sugar-free version of the Russian classic existed. But it does—under the shade of a farmers market booth in Santa Clara, every Saturday from 9am to 1pm. The vendor, Nina's Kitchen, hails from Watsonville and offers homemade Russian foods with a health-conscious California flair. The piroshki is a large, baked pastry usually filled with meat or cheese. Nina's Kitchen makes them stuffed with tofu, squash, potatoes, carrots or broccoli. A friendly man named Nahel was cooking fresh blintzes (simple eggless crepes folded over spinach, tomatoes, mushrooms and tofu or cheese) at the booth one Saturday in August, while a young lady named Hanna pushed free samples of everything from wheat-free tea cookies to sugar-free poppy seed rolls to a roasted red bell pepper spread called adjika. Natan Ibragimchayev says that he has followed a vegetarian diet for 27 years, and that's not uncommon in his home country. "There have been vegetarians in Russia for 100 years!" he exclaims. Well, it took awhile to translate on this side of the globe. The herbivores out there will be pleasantly surprised to discover Nina's Kitchen.
You Chose: Best Jewelry Store
Tiffany & Co. Valley Fair, 2855 Stevens Creek Blvd., Santa Clara 408.243.7771. Nothing quite compares to the feeling of opening a signature Tiffany blue box. Lifting the lid quickens the pulse, as the range of possible contents varies from a $70 keychain to a million-dollar-plus 4-carat diamond engagement ring. When I asked an employee the cost of the most expensive item in the store, she replied, "How much do you have?" Tiffany's has been breaking banks but helping win hearts since its beginning as a fancy goods emporium in 1837. It caused quite a stir when it opened in New York City using the revolutionary idea of a nonnegotiable purchase price—which might be the only resemblance to the present store. Today the Valley Fair Mall location is quiet and brightly lit, stocked with silver, pearls and exotic gems. Female customers peruse the showroom while their sweaty, gulping male counterparts tag along. As tense as fine jewelry shopping can be, Metro readers can't seem to stay away. Tiffany's wins best jewelry store again after claiming the prestigious title in 2003 and 2005.
Best Coffeehouse
Best Thai/Vietnamese Coffee
Best Open-Mic Night
Barefoot Coffee Roasters. 5237 Stevens Creek Blvd., Santa Clara 408.248.4500. If you thought independent coffeehouses were a dying breed in the Starbucks Empire, there's still hope. Don't go to the "corporate" side just yet, because Barefoot Coffee Roasters is proving to be more than a one-hit-wonder. The java-junkie's haven celebrates its opening anniversary every September, the same month that Metro brews our yearly Best Of issue—and how appropriate, because the two have been inseparable. On its first birthday in 2004, Barefoot won best coffeehouse and celebrated by serving free drinks all day. When it turned 2 in 2005, it repeated the victory—and the generous party. Owner Andy Newbom says his barista team worked the espresso machine continuously all day, handing out over 1,800 drinks. Now Barefoot is about to be 3, and guess what? It's done it again. In three categories: Best Coffeehouse, Best Thai/Vietnamese Coffee and Best Open-Mic Night. Will there be free drinks again? Check it out for yourself this Saturday, Sept. 23. Meanwhile, Newbom is awash in publicity (his shop has officially outshined the five Starbucks that surround it), and he's plotting expansion. There could be galactic change on the horizon. Newbom won't say how close he is to opening another store but he offered a three-word hint: downtown San Jose.
Best American Restaurant
Parcel 104. 2700 Mission College Blvd., Santa Clara 408.970.6104. Best American restaurant? Our readers nailed that one. Santa Clara's Parcel 104. In spite of its rather out-of-the-way location, chef Bart Hosmer has made the restaurant one of the South Bay's must-eats. American food used to mean burgers and tuna casserole, but Parcel 104's stridently seasonal, eye-poppingly prepared menu is cause for national pride. No matter what you choose, the menu reads like a road map of regional farms, ranches and cheese makers. The ever-changing dinner menu is divided into a three-course meal for $54 and multicourse tasting menus that range from $39 to $68. That's not cheap. But when you factor in the professional service, sumptuous surroundings and truly excellent food, it's money well spent. God bless America.
Send a letter to the editor about this story.