September 20-26, 2006
home | metro silicon valley index | features | silicon valley | feature story
Best of Silicon Valley 2006:
Intro | The Short List | Campbell | Cupertino | Gilroy and Morgan Hill | Los Gatos | Milpitas | Mountain View | Palo Alto and Menlo Park | San Jose | Santa Clara | Saratoga | Sunnyvale | Willow Glen | Readers' Choice—Food & Sustenance | Readers' Choice—Love & Romance | Readers' Choice—Arts & Culture | Readers' Choice—Shopping & Services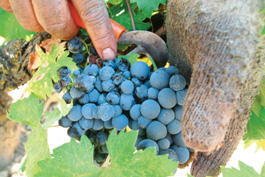 Harvesting zinfandel grapes at Guglielmo Winery.
Best of Silicon Valley 2006
Best of Gilroy and Morgan Hill
Best Place to Stink Up the Joint
Rapazzini Winery. Winery, Highway 101 and State Highway 25; 800.842.6262. Garlic Shoppes, 8155-4 Arroyo Circle, Premium Outlets, Gilroy; 408.847.2805. Garlic is better—and smellier—than 10 mothers. Gilroy's annual festival devoted to the odiferous bulb lasts only three days, but a garlic craving can be sated year-round at Rapazzini Winery. Refreshingly unpretentious (check out the cartoon grape-stomper logo), Rapazzini's tasting room offers a tasty roster of vintages, including red and white garlic wines. The gift shop specializes in infusing every possible food stuff with the essence of garlic: garlic mayonnaise, Psycho Garlic Hot Sauce, garlic olives, garlic salsa and garlic pistachios. The spicy garlic-flavored tortilla chips are especially piquant. With luck, Butter, a very flirtatious Airedale, will flop its ears at you before hunkering down on its giant stuffed bed in the shape of a bear. Rapazzini also sells all things garlic (including garlic ice cream) out of its two Garlic Shoppes, one right around the corner from the tasting room and one a couple miles north in the Outlet stores complex.
Best Refresher Course
Sue's Coffee Roasting Company. 7501 Monterey St., Gilroy 408.842.4220. These days, hot afternoons in Gilroy are exacerbated by the dust and noise of the unending downtown street improvement project (which is taking longer than the pyramids to complete). Sue's functions as an oasis for java lovers. The corner coffeehouse plants its oversize gleaming red and brass coffee-roasting machine right by the door as a signal that it takes the brewing arts seriously. The iced latte satisfies the taste buds and cools the palate, seducing with a complexity of flavor missing from most iced espresso drinks, which too often just taste watered down. Sue's also sells sandwiches and pastries, hosts live music in a folk-rock vein on Fridays, boasts a totally cool retro-'50s diner logo and serves as a community bulletin board—take a look at the concerned-citizen complaints about the permanent construction zone just outside the front door.
Best Place to Discover The Missing Links
Trail Dust BBQ Joint. 17240 Monterey St., Morgan Hill 408.776.9072. The big barrel-shaped smoker behind the Trail Dust works overtime to keep up with the demands of rib lovers. True to its name, Trail Dust evokes a Western flavor with a cowhide rug on the floor, old license plates on the wall and a painted tribute to James Dean in his Giant duds. The pork ribs—tender and smoked over oak for four or five hours—are done St. Louis style and sell out in a hurry, so don't hesitate when ordering. The tri-tip, served barely pink inside and with a crusty, caramelized char outside, runs a close second. Trail Dust BBQ Joint distinguishes itself from the general run of meat marts by serving an impressive array of serious beers from Eureka's Lost Coast Brewery, Fort Bragg's North Coast Brewing Co. and Morgan Hill's own El Toro Brewing Co.
Best Place to Think and Drink Big
Guglielmo Winery. 1480 E. Main Ave., Morgan Hill 408.779.2145. An inviting paved patio with a fountain gives Guglielmo the right kind of Italian ambience. Oenophiles will appreciate the historic equipment on display, including a well-used "must pump" and basket presses, used to separate the juice of the grapes from the skin. The well-stocked tasting room is available for sampling the winery's many selections in three labels: Private Reserve, Villa Emile Varietal Wines and Emile's. As a one-time treat, the winery salutes the centenary year of Morgan Hill (which formally incorporated in November 1906) with some limited-edition bottlings of a 2003 Santa Clara Valley cabernet sauvignon, the most startling of which comes in a Methusalem bottle (holding a full 6 liters, the equivalent of eight regular bottles). This Paul Bunyan of bottles looks like it would take a pro lineman to serve. It will be available only through charity auctions for big spenders.
Best Place to Hear That Lonesome Whistle Blow
Downtown Gilroy and All Aboard Junction. 8355 Monterey St., Gilroy 408.846.8841. Rail fans can get a dose of trains both big and scale-size in Gilroy. A major north-south track runs just parallel to the main drag, providing plenty of chances for some serious train-spotting. AMTRAK speeds through town at an alarming pace, while various freight consists hauled by big yellow Union Pacific diesels rumble by, shaking the ground beneath. At the corner of Fifth and Monterey streets, on the side of Sue's Coffee Roasting Company, rail buffs can admire a large, accurate mural of the famed California Daylight steam train of the 1940s and '50s, with its silver boiler door and orange and red paint job. The local train station (which handles the Caltrain commuter and Greyhound buses), built in 1918, harks back to another, better era of travel with its Mission architecture. For those who like their trains small enough to pick up by hand, All Aboard Junction sells toy and model locos, with a strong selection of big garden railroad cars that can populate a backyard transportation empire. In addition to rolling stock, the store also carries an impressive line of beautifully crafted, locally made model railroad bridges and trestles.
Best Place to Discover the Best Jazz Vocalist Born in the South Valley
Historic Museum. 195 Fifth St., Gilroy 408.848.0470. Much of the success of Duke Ellington's signature number, "It Don't Mean a Thing If It Ain't Got That Swing," was owed to Ivie Anderson, a stylish, sweet-sounding vocalist, who helped introduce the number in 1932. Anderson, who apprenticed as a chorine at the Cotton Club and worked with Earl Hines, spent more time with the Duke than any of his other vocalists, lasting through the heyday of the big-band era, before moving to L.A. and opening a chicken eatery. She also delivered hits like "Isn't Love the Strangest Thing" and "Love Is Like a Cigarette" and showed up in the Marx Brothers' A Day at the Races. And best of all, she was born and raised in Gilroy. A display of vintage recording equipment and a photo commemorate that signal fact at the Gilroy History Museum. The only puzzle is Anderson's birth year, which is listed on various websites as either 1904 or 1905, but we believe that all history is local and take the museum's word for it that the proper year is 1903.
Best Place to Buy an Indian
Indian-Victory. 7191 Monterey Road, Gilroy 408.848.2262. Hell, the only place to buy a new Indian. A few years ago, the Indian motorcycle company, based in Gilroy, closed its doors. There are plans afoot to try again, this time in North Carolina, but retooling is a lengthy business. Meanwhile, a precious handful of new Indians can be found at the Indian-Victory dealership. These low-slung beauties—chromed and curved in all the right places—are all that remain of a glorious quixotic effort to re-establish a cycling icon. A brisk trade in used Indians keeps parting collectors from their money, but for a brand-new model, you gotta come to Gilroy. The dealership also sports the Victory line, another stylish, throaty two-wheeled beast.
Best Film Festival Named After a Gemstone
The Poppy Jasper Film Festival. Various locations, Morgan Hill. It isn't enough just to name your film festival after a mineral and expect people to show up. Do you know how much it costs to get to Telluride? Wouldn't it be better just to take an easy VTA bus to Morgan Hill and attend the Poppy Jasper Film Festival? The festival is named after a semiprecious stone with distinctive poppylike orbs of golden yellow in it. This semiprecious gem can be found only in Morgan Hill (and in Russia, but Russia doesn't count). The festival serves as a showcase for independent filmmakers, and its motto for hard-pressed valleyites is "art in 30 minutes or less." Last year's guest speaker was Bud S. Smith, a veteran film editor who worked on The Exorcist and Ladder 49. As for the jasper itself, there's less of it than there once was in the Morgan Hill area, but keep it if you can find it. The gemstone wards against snake and spider bites and brings rain (and the rains generally start about the time of the Poppy Jasper Film Fest—coincidence?), This year's festival takes place Nov. 10-12; see www.poppyjasperfilmfest.org for details and updates.
Best Place to Taste the Valley Of Heart's Delight
Andy's Orchard. 1615 Half Road, Morgan Hill 408.782.7600. Once upon a time, apples were for eating, not computing, in Santa Clara Valley. Those halcyon days when a sea of blossoming fruit trees carpeted the valley can be relived at Andy's Orchard, a family farm presided over by Andy Mariani, who takes his fruit very seriously. The country store on the property sells a marvelous moveable feast of fruit (and vegetables), most of them artisanal varieties that put supermarket produce to shame. It is clear from the informative labels that Andy's thinks of its fruits as individual treats rather than engines of mass consumption. On a recent September visit, I found some rich, sweet figs, Last Chance peaches, Elephant Heart plum, Grand Claret plums and Dapple Dandy pluots. The selection changes with the passing of the seasons—look for apples and persimmons soon.
Best Place to Fire Up the Wayback Machine
Downtown Gilroy's Antique Row. Monterey Street, Gilroy. Recycling of the highest order informs the richly stocked array of antique stores and collectives along Monterey Street in downtown Gilroy. The close proximity, within about two blocks of the west side of Monterey, make the town a magnet destination for seekers of everything from Depression glass to 1950s TV lamps, from solid oak furniture (IKEA be damned) to formica-topped breakfast tables straight out of I Love Lucy, from vintage dolls to a kid's chemistry set (endorsed by one Tunis Baker, Ph.D.) with 42 bottles of probably toxic chemicals. The best thing about rooting through these ad hoc commercial museums of Americana is that you don't need a shopping list—serendipity is the order of the day.
Send a letter to the editor about this story.