September 27-October 3, 2006
home | the papers | metro silicon valley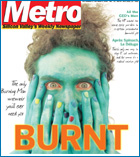 Fiya on the Playa
A Burning Man Travelogue, part one.

News: HP Scandal
Pretextgate has taken on Nixonian proportions, with some eerie parallels.
The Fly: 09.27.06
Corny jokes flew left and right at last week's Rotary Club meeting, which featured a face-off between the San Jose mayoral candidates.

Silicon Alleys: Jaywalking
Silicon Alleys wants to hear your jaywalking ticket stories.
Technology News: 'Hip Buzz Phrases'
Not only does PimpedEmail take money away from its users, it takes away their knowledge of how domain names work— and by extension, it takes away just a bit more of their power.
Style: Men-aissance, Schmenaissance
The supposition that it's manly to let one's self go, or take less care of one's self, is the ultimate insult to men-kind.

Movie Review: 'School for Scoundrels'
A golden braid of twerpiness connects early Woody Allen to Jon Heder's hapless hero in 'Road Trip' director Todd Phillips' latest comedy.
Movie Review: 'This Film Is Not Yet Rated'
And it never will be rated if the MPAA has its way.
Movie Review: 'Keeping Mum'
No one puts Dame Maggie Smith in a corner.
Movie Review: 'The Science of Sleep'
A date movie for people who still wear footie pajamas.
Movie Review: 'The Films of 20th Century-Fox'
A series of 20th Century-Fox films at the Stanford Theatre features nearly 70 movies in 80 days.
Movie Review: 'Jesus Camp'
The year's scariest movie.
Cult Leader: Harlan Ellison vs. the Terminator
When cult culture gets hijacked.
Movie Review: This Week's Revivals
Fox and friends: 'The Films of 20th Century-Fox,' 'Young Frankenstein' and 'Madagascar.'

MORE MOVIE REVIEWS

MOVIE TIMES

Music Preview: San Jose Mariachi Festival
For its 15th anniversary, the festival welcomes Juan Gabriel and a host of mariachi favorites.
Music Preview: Download Festival
The timely music festival aims to slow its connection speed with Beck.

MORE MUSIC AND NIGHTLIFE

MUSIC AND CLUBS LISTINGS

MUSIC AND NIGHTLIFE CALENDAR PICKS

Restaurant Review: Sumiya Japanese Charcoal Grill
A one-of-a-kind Silicon Valley find.
Live Feed: Spinach
E. coli's attack on spinach demonstrates how vulnerable and inherently flawed our centralized food supply chain is.
5 Things to Love: Spinach Alternatives
Thanks to E. coli.

BOOK A RESTAURANT RESERVATION

FIND A RESTAURANT REVIEW

Stage Review: 'Long Day's Journey Into Night'
A fragile matriarch holds a cracking family in thrall in Pear Avenue's production of the Eugene O'Neill classic.
Stage Review: 'Lil' Darlin''
A family's world tilts to farce in Will Marchetti's play.
Visual Arts Review: 'Suburban Escape'
The California artists in this SJMA exhibit explore the farthest reaches of sprawl.
Visual Arts Review: 'Virgin, Saints and Angels'
The Cantor's exhibit shows the migration of European themes and styles to a new continent.

Letters to the Editor
September 27-October 3, 2006.