October 11-17, 2006
home | the papers | metro silicon valley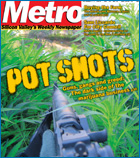 Dark Green
If you smoke pot, there's a chance your bag of weed was produced by a murderous drug syndicate that pays poor immigrant laborers to camp out in the woods with guns and threaten hikers, shoot cops and foul the environment. Does that bring you down?

News: Measure A
The opposition to Measure A has hired a San Diego power player to put its farmer-friendly spin on the debate. He's done it before—and won. Here's how.
The Fly: 10.11.06
Fly's been getting complaints about what's becoming the most controversial funding pot in the valley, the city of San Jose's Healthy Neighborhoods Venture Fund (HNVF).
Election Endorsement: Sam Liccardo
Metro's choice for District 3 City Council.

Silicon Alleys: Where's San Jose?
Every major California city worth visiting was represented at the California Travel and Tourism Commission—that is, every city but San Jose.
Technology News: Geowanking
Platial is a mashup of Google Maps and allows you build and store customized maps that you share with friends (try it! it's insanely addictive).
Sports News: San Jose Sharks
The glorious 6-3 win against the Calgary Flames along with the bitter 2-5 loss at home against the L.A. Kings in the pre-season is keeping the fans on their toes with this season's start.
Style: Fall Fashion
Just try making sense of all the fads, trends and messages that the fashion world flings at women each season. It may be fun for fashionistas, but this season many friends of fashion have cried foul.

Interview: Dan Clowes of 'Art School Confidential'
The creator of the 'Eightball' comics and 'Art School Confidential'—now on DVD—talks with Richard von Busack.
Movie Review: 'Shortbus'
John Cameron Mitchell's latest film breaks down the wall between porn and nonporn.
Movie Review: 'A Guide to Recognizing Your Saints'
Robert Downey Jr. tries to go home again.
Movie Review: 'The Last King of Scotland'
As Idi Amin, Forest Whitaker finally gets a part big enough for his talents.
Movie Review: 'Infamous'
Another retelling of the story behind the real Truman show.
Movie Review: This Week's Revivals
We want the Chunk: 'The Goonies,' 'Election' and more.

MORE MOVIE REVIEWS

MOVIE TIMES

Music Preview: Fred Eaglesmith
The Canadian folkie invites you to leave the hummus at the door.
Music News: Club Raw
A new San Jose club takes a chance on 18-and-up shows downtown.

MORE MUSIC AND NIGHTLIFE

MUSIC AND CLUBS LISTINGS

MUSIC AND NIGHTLIFE CALENDAR PICKS

Restaurant Review: Tanglewood
Santana Row upstart finds niche with fresh and unique American cuisine.
Live Feed: Seeing Stars in Silicon Valley
Alright, so Silicon Valley doesn't have an abundance of top-end, fine cuisine. But its real strength lies in its myriad of hole-in-the wall eateries, ethnic and down-home restaurants.
5 Things to Love: Restaurants With Private Dining Rooms
For fancy family get-togethers or posh holiday work parties.

BOOK A RESTAURANT RESERVATION

FIND A RESTAURANT REVIEW

Stage Profile: San Jose Repertory Theatre
Good theater doesn't come cheap; the Rep tries to right its financial ship without selling out its artistic soul.
Stage Profile: Tom Beckett of 'Moonlight and Magnolias'
Richard von Busack talks with the actor who plays David O. Selznick in the Rep's play about the making of 'Gone With the Wind.'
Stage Review: 'Dessa Rose'
TheatreWorks tries to make a musical do double duty.
Stage Review: 'The Shape of Things'
Northside Theatre Company unveils questions about art.
Book Review: 'Radical Innocent: Upton Sinclair'
By Anthony Arthur.
Book Review: 'All Governments Lie! The Life and Times of Rebel Journalist I.F. Stone'
By Myra MacPherson.

Letters to the Editor
October 11-17, 2006.