November 15-21, 2006
home | the papers | metro silicon valley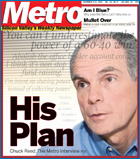 Chuck Reed
Can the San Jose mayor-elect reform City Hall?

Democrats' victory
Think the Dems' victory is a revolution for American government? Think again.
The Fly: 11.15.06
Lost amid the hoo-hah of the higher profile races on election night was incumbent Jane Kennedy's re-election victory for a city council seat in Campbell.

Silicon Alleys: Passports
Norwalk, Connecticut—the 221st largest city in the United States—has a passport office and San Jose doesn't. Go figure.
Technology News: Microsoft Linux
Microsoft is trying to muddy the waters just enough that consumers will stop recognizing the fundamental divide between Windows and Linux.
Sports News: Andre Ward
On Nov. 16, Andre Ward will be out to ring Derrick Findley's bell on the canvas at the HP Pavilion.

Robert Altman: 1925-2006
The influential director of 'Nashville' took the hubbub of voices in five turbulent decades and turned the racket into a jazz symphony.
Movie Review: 'Little Children'
In Todd Field's latest directorial effort, the suburban parents are overgrown children straight out of a Cheever short story.
Movie Review: 'Casino Royale'
Daniel Craig's debut as 007 shows us how Bond became Bond.
Movie Review: 'For Your Consideration'
The Oscar buzz stings the cast and crew of an indie film in the hilarious new Christopher Guest comedy.
Movie Review: 'Fur: An Imaginary Portrait of Diane Arbus'
Director Steve Shainberg imagines the Diane Arbus we never knew.
Movie Review: 'Fast Food Nation'
Richard Linklater's fictionalized 'Nation' is chewier than the burgers he skewers.
Film Festival Preview: 10th International Latino Film Festival
The festival keeps spooling through the weekend.
Cult Leader: After Dark HorrorFest 2006
The horror event gives fans a chance to see eight films that were too much for the studios.
Movie Review: This Week's Revivals
What would Tyler Durden do?: 'Fight Club,' 'And Then There Were None' and more.
DVD Review: 'In Search of the Valley'
A British documentary examines Silicon Valley's impact on the rest of the world.

MORE MOVIE REVIEWS

MOVIE TIMES

Essay: Metal
It's for anyone who wants it, needs it and means it.
Music Review: Neil Young, PJ Harvey, Jeff Tweedy, Depeche Mode and Conor Oberst
New music releases reminisce before the spring forward.

MORE MUSIC AND NIGHTLIFE

MUSIC AND CLUBS LISTINGS

MUSIC AND NIGHTLIFE CALENDAR PICKS

Restaurant Review: Ramen Rama/Red Miso
Two Cupertino ramen restaurants combine.
Live Feed: Baby Cubes and More
A San Jose mom creates organic baby food that's delicious for a change.
5 Things to Love: Places to celebrate the GOP's defeat
In your face, Bush!

BOOK A RESTAURANT RESERVATION

FIND A RESTAURANT REVIEW

Stage Preview: 'Giselle'
Ballet San Jose tip-toes through the graveyard for classic dance drama.
Stage Review: 'Our Town'
Thornton's famed play is not exactly a walk on the Wilder side.
Book Review: 'The God Delusion'
By Richard Dawkins.
Book Review: 'The Shape of Things to Come: Prophecy and the American Voice'
By Greil Marcus.
Book Review: 'Cancer Vixen'
By Marisa Acocella Marchetto.

Letters to the Editor
November 15-21, 2006.