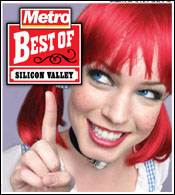 For the Week of
September 14-20, 2005
Cover Story: Best of Silicon Valley 2005:
As a response to all those lame talk show jokes about the San Jose Wendy's scandal, our cover girl wanted to raise a different finger, but we didn't want to lose some of our advertisers.
Food & Sustenance
Arts & Culture/Music & Nightlife
Shopping & Services
Love & Romance
Editors' Short List
News: Flight Club:
Is 'white flight' threatening to bring segregation back to Silicon Valley schools?
The Fly: The Constant Gardener: Pete Constant quietly plants the seed for his District 1 campaign.



Silicon Alleys: Gnarly Computations For the Future.
Techsploits: You Can't Take the Sky From Me: A 'Firefly' fan sings the praises of Joss Whedon's antiauthoritarian sci-fi franchise.
Rev: Open Only in Case Of Emergency: I'm stockpiling food and water. I'm taking survivalist training. I'm preparing to be able to do anything in order to survive.



Video Wasteland: The Found Footage Festival stars Corey Haim, Zsa Zsa Gabor, Traci Lords and the beer abusers of Oceana County, Mich.
Shell Shock: The best intentions can't save Nicolas Cage in Andrew Niccol's 'Lord of War.'
Nerdtopia: 'The Baxter' is a cozy little comedy about the too-nice guy who gets stranded at the altar.
Drive, She Said: A wife, a mistress, and a two-timing husband confront each other in Tahmineh Milani's Iranian drama 'Unwanted Woman.'
Filmlets Go Manhattan: Twelve films compete for the love of viewers in 'The Manhattan Short Film Festival.'
Download Update: Cinequest announces downloads and rentals for fans of independent films.



Frantic 'Antics': Interpol moves beyond the comparisons.
All Born to Die: Nevada Backwards look on the sunny side of life.



A Fancy Prose Style: In 1955, Vladimir Nabokov shocked readers with a novel of forbidden lust; 'Lolita' still has the power to disturb.
Coach Potatoes: Frank Fitzpatrick's fascinating 'The Lion in Autumn' is one of the best books ever written on the rise and fall of a great college football coach.
Book Box: 'The Trudeau Vector' by Juris Jurjevics; 'Spice: A History of a Temptation' by Jack Turner; 'Sons of the Conquerors: The Rise of the Turkic World' by Hugh Pope.



Flea Enterprise: Buy! Sell! Eat! The flea market is an offbeat culinary adventure.
Live Feed: Bomb Shelter Cuisine.
5 Things to Love: Heirloom Tomato Varieties.



Witch Hunt: Opera San José's production of 'The Crucible' proves relevant in new era of Patriot Act hysteria.
Haunted, Dead or Alive: San Jose Rep inhabits a famous local mansion with ghosts and other goodies in 'The Haunting of Winchester.'



Please don't forget to write! Metro welcomes letters. Like any great work of art, they should be originals — not copies of letters sent elsewhere. Include address and daytime phone (for verification purposes only). Letters may be edited for length and clarity or to correct factual inaccuracies known to us. Postal: Metro Letters, 550 S. First. St., San Jose, CA 95111. Fax: 408/298-0602. Email: letters@metronews.com. Emailers, please include name, city of residence and phone number. Letters printed will list email address unless otherwise specified. Letters to the editor are not currently published in the online version of this paper.