April 19-25, 2006
home | the papers | metro silicon valley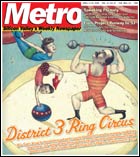 San Jose City Council Race
This year's race to the District 3 council seat feels like a circus, and not the fun kind with the faux-gypsy acrobats.

News: Joe Wilson
The former diplomat and husband of outed CIA agent Valerie Plame talks about the politics of personal destruction and his upcoming appearance in Santa Cruz.
The Fly: No Subway Sandwiches in Downtown Saratoga
Saratoga residents disagree over bringing new business to downtown.

Silicon Alleys: The Rise and Sprawl of San Jose
SJ is nothing but 20 different small towns barely duct taped together with no common connection whatsoever.
Technology News: Sleep-Deprived Gamers
Belgian scientists prove that losing sleep over video games is a good way to lose your memory, too; Annalee Newitz reports.
Car Culture: Driving in the Rain
Rainy Days and Mudslides Always Get Me Down: Tips for surviving the deluge on the roads.
Sports Preview: San Jose Sharks
Deep Blue: The Sharks are hot heading into the NHL playoffs.

Movie Review: 'Mountain Patrol: Kekexili'
Once upon a time in the East.
Movie Review: 'Marilyn Hotchkiss Ballroom Dance & Charm School'
Ballroom blitzed.
Film Festival Preview: San Francisco International Film Festival
Maddin 'n SF 2006.
Cult Leader: Merciless Movies
The panic over horror flicks is nothing new.

MORE MOVIE REVIEWS

MOVIE TIMES

Music Preview: Photographer Charlie Nucci
A former Ajax Lounge doorman captures a bygone era.
Music Essay: New Slang
Are you up on the New Bay terminology? Take our quiz.
Club Life: Naglee Park Garage
Outdoor cinema is in the cards.

MORE MUSIC AND NIGHTLIFE

MUSIC AND CLUBS LISTINGS

MUSIC AND NIGHTLIFE CALENDAR PICKS

Restaurant Review: Chez T.J.
It's just your average S.F.-chef-moves- to-'burbs-and-tries-to-revolutionize-avant-garde-cooking story.
Live Feed: There's Nowhere To Hide From the Michelin Man
The Michelin Guide is headed for the Bay Area.
5 Things to Love
Earthquake Preparedness Foods.

BOOK A RESTAURANT RESERVATION

FIND A RESTAURANT REVIEW

Arts Preview: Chloe Dao
The 'Project Runway' winner will appear at a Vietnamese fashion exhibit.
Arts Preview: 'Moon Reflections on Crystal Spring'
Yong Yao choreographs a dance about a great Chinese folk musician.
Arts Preview: Ballet San Jose Silicon Valley
The 2006-07 season opens with 'Giselle.'
Arts Preview: Cal Performances
UC-Berkeley announces the 2006-07 performing arts schedule.
Book Review: 'After the Ruins: 1906 and 2006'
Mark Klett rephotographs the San Francisco earthquake and fire.
Book Review: 'Earthquake Days'
The 1906 earthquake and fire in 3-D.