July 11-17, 2007
home | the papers | metro silicon valley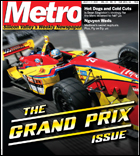 San Jose Grand Prix 2007:
On and off the track | Track schedule | Off-track schedule | Race week events | Activities

Singled out
Is the MediaNews strategy doomed to fail at the Merc?
The Fly: 07.11.07
Nguyen weds: Madison's secret nuptials.

Silicon Alleys
Huts so good.
Technology news
Why 'Transformers' is even cooler than you dreamed.
Sports news
After 16 years and lots of bad breaks, he's back—Mark Byers returns to the NPC 2007 Bodybuilding Championships in San Jose on July 14.
Style
Nan shall pass: Kempner fashion on display.

Movie review: 'Vitus'
The comedy, drama and horror of the young prodigy.
Movie review: 'Harry Potter and the Order of the Phoenix'
Paranoia paralyzes Hogwarts, while the politicians dither.
Movie review: 'Broken English'
Parker Posey stars as a singleton under the influence.
Movie review: 'License to Wed'
Soon to be famous as 'the movie that caused those in-flight suicides.'
San Francisco Silent Film Festival
Revives the glory of cinema's early decades.
Cult Leader: 'The Night Stalker'
Stalk of the Town: Kolchak defined spooky cool.
This week's revivals
Astaire movies, 'Jaws' and 'Old School.'

MORE MOVIE REVIEWS

MOVIE TIMES

Ike Reilly
The best songwriter you've never heard.
Music Picks
The Smashing Pumpkins, Tony Shepperd, Ani DiFranco and the Carmel Bach Festival.

MORE MUSIC AND NIGHTLIFE

MUSIC AND CLUBS LISTINGS

MUSIC AND NIGHTLIFE CALENDAR PICKS

Make a night of it
Menlo Park's Iberia is a great place to settle in for dining, Spanish style.
Live Feed
Where to catch the late-night sugar train.
5 Things to Love
Great sandwich makers.

BOOK A RESTAURANT RESERVATION

FIND A RESTAURANT REVIEW

Car care
'Road Trip,' a new show at History San José, revives the days when driving was fun.
'Hair' Fare
Original producer Michael Butler talks about San Jose's new production of '60s musical classic.
End notes
Ed Ruscha and Raymond Pettibon print up a world of words at San Jose Museum of Art.
Book review: 'Stalin's Ghost'
Book authored by Martin Cruz Smith.
Book review: 'New England White'
Book authored by Stephen L. Carter.
Kids events
'High School Musical.'

Letters to the Editor
July 11-17, 2007.