September 13-19, 2006
home | the papers | metro silicon valley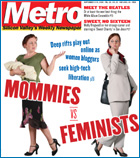 Cover Story: blogher.org
Blogs, moms and sex—they're three words that have thrown the women's movement for a loop online, leading to all kinds of infighting about what is and isn't politically correct. Are these new 'mommyblogger' and 'sexblogger' movements the 21st century version of emancipation?

Feature: Amy Goodman
The 'Democracy Now!' host's hard truth is the antidote to the corporatization—and worse—of broadcast journalism.
The Fly: 09.13.06
As the handout line grows at San Jose City Hall, Fly can't help but remember the last time city leaders considered dishing out for our 'national image.'

Silicon Alleys: Psychogeography
Sometimes there are so many things going on over a stretch of just a few days that it's impossible to fully experience everything. Instead, one must engage in what some have called psychogeography.
Technology News: Political Satire
In honor of Bush's efforts to stop torture by setting up secret CIA prisons and to promote freedom by expanding government surveillance powers, we should spend a few days contemplating another great thing this administration has done for the world: It has reinvigorated satire.
Sports News: Dew Action Sports Tour
Brazilian skaters fly higher than anyone.
Style: Ron Gonzales
The beleaguered Mayor McSleaze is an example of what happens when behavior overpowers one's appearance.

Movie Review: 'Buffalo Boy'
A 2004 Vietnamese film searches for roots in a watery world.
Movie Review: 'The Black Dahlia'
Brian De Palma adds voyeurism to James Ellroy's hardboiled tale of murder.
Movie Review: 'Gridiron Gang'
Can you smell what the Rock is cooking in this football flick? Leftovers again.
Movie Review: 10th Annual Arab Film Festival
The event continues with a second weekend of rare features from the Mideast.
Cult Leader: '80s 'Twilight Zone'
The Leader's always had a soft spot for this barely remembered show, which suffered from always being compared to Rod Serling's incomparable original.
Movie Review: This Week's Revivals
'Raiders''s Commitment to Excellence: 'Raiders of the Lost Ark,' 'Bringing Up Baby' and more.

MORE MOVIE REVIEWS

MOVIE TIMES

Music Preview: White Album Ensemble
The band's fab eight take on the last two Beatles albums and talk about a musical legacy that extends from Liverpool to Santa Cruz.
Essay: Listmania
When did list making become an excuse for rock journalism?

MORE MUSIC AND NIGHTLIFE

MUSIC AND CLUBS LISTINGS

MUSIC AND NIGHTLIFE CALENDAR PICKS

Restaurant Review: Dumpling and Noodle, Tofu House and Corner Place
Silicon Valley has the best Korean food north of L.A. We know where to find them.
Live Feed: Literary Food Writing
An underappreciated form of journalism finally gets its due.
5 Things to Love: Homegrown Specialty Grocery Stores
We've found five alternatives to Whole Foods.

BOOK A RESTAURANT RESERVATION

FIND A RESTAURANT REVIEW

Stage Preview: 'Angels in America'
City Lights Theater Company hopes to soar with an ambitious production of Tony Kushner's epic.
Stage Preview: Molly Ringwald of 'Sweet Charity'
A short chat about long memories with the former Brat Packer.
Stage Review: 'Roméo et Juliette'
The Opera San José production showcases the company's new roster of resident artists.
Stage Review: 'Bill of (W)rights'
Renegade Theatre Experiment takes a multifaceted look at the Ten Amendments.
Stage Review: 'Mr. Pim Passes By'
Tabard Theatre Company adds a dash of suspense to this drawing-room comedy.

Letters to the Editor
September 13-19, 2006.