10.17.07
home | the papers | metro silicon valley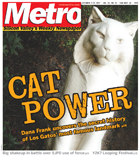 In the Shadow of the Cat
To paraphrase Mark Twain, everyone talks about the Los Gatos stone cats, but no one does anything about them. But now Dana Frank has tracked down their history in her new book on the area's kitsch monuments.

Exit Strategy
Why Sanjeev Bery is leaving the local ACLU branch he founded in the middle of its biggest fight.
Current Affairs
Historic new protections could save our shores, but the real impact remains to be seen.
The Fly: 10.17.07
No End In Blight, A Different Kind Of Council Race & Match Point.

Silicon Alleys
Dove, Actually
Technology news
Moaning Lisa and the joys of mechanical sex
Style
Men's Magazine Madness
Events
The Dog Whisperer
Sporting Events
San Jose Earthquakes
Kids Events
Art & Autism

Movie Review:
Benicio Del Toro makes 'Things We Lost in the Fire' look good
Movie Review:
'Sleuth' remakes 'Sleuth'
Movie Review:
Reese searches for her CIA-captured husband in 'Rendition'
Film Festival:
The Arab Film Festival
Film Festival:
The San Jose Jewish Film Festival
Film Festival:
The U.N. Association Film Festival

MORE MOVIE REVIEWS

MOVIE TIMES

Loop Dreams
Musicians play it again at the Best of the Y2K7 International Live Looping Festival.
Music Review:
Genesis plays HP Pavilion
Classical Music Picks:
Oct. 17-23
This Week's Music Picks
Jennifer Lopez, Joan Sebastian & the Pogues.

MORE MUSIC AND NIGHTLIFE

MUSIC AND CLUBS LISTINGS

MUSIC AND NIGHTLIFE CALENDAR PICKS

Taiwanese Revolution
Liou's House is a distinctive Milpitas find for Chinese cuisine.
Live Feed
Zagataboutit
5 Things to Love
Reasons to Give Up The Bottle

BOOK A RESTAURANT RESERVATION

FIND A RESTAURANT REVIEW

Museum review:
San Jose Museum of Art looks at artists looking at nature in two new shows.
Stage Review:
American Musical Theatre of San Jose gambles on 'Buys and Dolls'
East Meets West
Nobel novelist Orhan Pamuk studies the stress fractures between Turkey and the West.
Book Review:
The Lion and the Unicorn
Book Review:
My Brother's Madness

Letters to the Editor
October 17-23, 2007.