11.07.07
home | the papers | metro silicon valley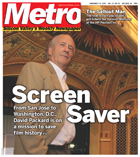 Cinema Saver
David Packard of Stanford Theatre gives millions to national film-preservation effort

The Liquidator
Behind the year's hottest ticket at HP is an unseen economy that dictates who gets a seat, and for how much
The Fly: 11.07.07
The Health Care Cliché Crisis, Who Hearts Porn & Peace In Our Time

Silicon Alleys:
Hidden Treasure at San Jose State
Technology News:
Tech: Do carbon offsets really work or just sooth the conscience?
Sports
Frank Yallop
Kids Event:
Wild Cat Adventure brings a quintet of big furry friends to an educational event at Foothill College in Los Altos Hills on Sunday (Nov. 11) at 2pm. Call 707.874.3176 to reserve tickets.
Author Event:
In her memoir 'On Gold Mountain: The 100-Year Odyssey of My Chinese-American Family' and her novels 'Snow Flower and the Secret Fan' and 'Peony in Love,' Lisa See has delved into the secret stories of families, especially Chinese-Americans. She takes part in a Q&A session sponsored by Contemporary Asian Theater Scene on Sunday (Nov. 11) at 3pm at Bella Mia Restaurant in San Jose. Call 800.838.3006 for details.

Preview: Luis Valdez
The pioneer Chicano director talks about his early days in San Jose
Preview: Latino Film Festival
This week's screenings at Camera 12 in San Jose
Review: 'Lions for Lambs'
Directed by Robert Redford
Review: 'Darfur Now'
A documentary by Ted Burns
Review:
This week's movie revivals

MORE MOVIE REVIEWS

MOVIE TIMES

Why I Liked J Church
Remembering Bay Area punk Lance Hahn
This Week's Music Picks
M.I.A., Mimi Fox & Heavy Trash

MORE MUSIC AND NIGHTLIFE

MUSIC AND CLUBS LISTINGS

MUSIC AND NIGHTLIFE CALENDAR PICKS

Right on Que
Beque takes Korean BBQ to the next level—upscale
Silicon Veggie
The Vegan Wedding, Part Deux
5 Things to Love
Barley Wines

BOOK A RESTAURANT RESERVATION

FIND A RESTAURANT REVIEW

Salman Rushdie
'Satantic Verses' author to speak at SJSU Nov. 8
Classical Preview
California Youth Symphony, Nov. 11; Hewlett-Packard Symphony Orchestra, Nov. 9; San Jose Chamber Music Society, Nov. 11; Philharmonia Baroque, Nov. 9; Palo Alto Chamber Orchestra, Nov. 10
Stage Review: 'Little Women'
Palo Alto Players score with musical version of Alcott story
Books: 'The Jewel House' by Deborah E. Harkness
Reviewed by Michael S. Gant
Books: 'The Bad Girl' by Mario Vargas Llosa
Reviewed by Michael S. Gant

Letters to the Editor
November 7-13, 2007.