November 22-28, 2006
home | the papers | metro silicon valley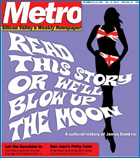 Confessions of a James Bond fanatic
A new book says 007's cultural relevance as the savior of the British Empire and the world is over. But one lifelong fan will never say never again.

San Jose Aquatics Master Plan
City says it needs six more months on long-term aquatics plan, residents say fix crisis now.
The Fly: 11.22.06
We all knew money was tight, but Fly didn't think it would come to this. Retired SJ cop Ken Stewart was forced to take the city to small claims court to make good on a pecuniary promise city officials made him several years ago.

Silicon Alleys: San Jose's soullessness
'As soon as they see a 408 number on your CD, they just throw it the garbage can.'
Technology News: Happiness
One can even have too much of it and never develop the emotional skills required to endure hardship or setbacks.

Movie Review: 'The Fountain'
Rachel Weisz and Hugh Jackman meet cute three times in Darren Aronofsky's eon-spanning love story.
Movie Review: 'Déjà Vu'
Tony Scott thriller ignores intriguing theme and opts instead for new variations on old chase scenes.
Movie Review: 'Bobby'
June 1968, Los Angeles: a politician dies while a hotel full of lonely souls learns to connect.
Cult Leader: 'Infernal Affairs'/'The Departed'
Hong Kong cult thriller vs. Scorsese remake.
Movie Review: This Week's Revivals
Bringing in the Jeeves: 'Thank You, Jeeves,' 'Pinky' and more.
Robert Altman: 1925-2006
The influential director of 'Nashville' took the hubbub of voices in five turbulent decades and turned the racket into a jazz symphony.

MORE MOVIE REVIEWS

MOVIE TIMES

Music Preview: Sik Luv
Lone Wolf McCool and Nana accelerate the sound of rockabilly for San Jose dive-bar lovers.
Music Preview: Vicente Fernández
Mexican musician cements his ranchera rep with box set and new album.

MORE MUSIC AND NIGHTLIFE

MUSIC AND CLUBS LISTINGS

MUSIC AND NIGHTLIFE CALENDAR PICKS

Restaurant Review: Negeen
Persian cuisine at its best.
Live Feed: The Democratic upheaval and healthier eating habits
Just as we crave a healthier body politic, it seems Americans crave healthier bodies, too.
5 Things to Love: Restaurants serving Thanksgiving dinner
A home-cooked Thanksgiving dinner is great, but if you're too busy or don't feel like cooking, try one of these restaurants on turkey day.

BOOK A RESTAURANT RESERVATION

FIND A RESTAURANT REVIEW

Author Profile: Charles Frazier
The 'Cold Mountain' author talks about the Cherokee inspiration for his latest, 'Thirteen Moons.'
Stage Review: 'The Baltimore Waltz'
A brother and sister seek a European cure in this Pear Avenue Theatre production.
Stage Review: 'The Barber of Seville'
Opera San José's 'Barber' offers an object lesson in musical comedy.
Stage Review: 'Greater Tuna'
Kevin Blackton and Tim Hendrixson drag the gags in San Jose Stage's 'Tuna.'
Stage Review: 'Giselle'
Karen Gabay's Giselle gives a haunting performance for Ballet San Jose.

Letters to the Editor
November 22-28, 2006.