November 29-December 5, 2006
home | the papers | metro silicon valley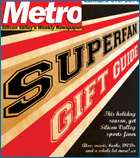 2006 Holiday Gift Guide:
Hall of Shame Gift Guide | CD box sets | Book gifts | Politically incorrect DVDs | Holiday movie preview | Holiday event list

Medicare scam?
Are some companies using the looming deadlines and confusing changes in Medicare to scam seniors?
The Fly: 11.29.06
Starbucks encourages customers to 'become more involved in your community through your local Starbucks store.' So why did they take down paintings provided by 'Screaming Man' creator Robert Therrien Jr.?

Silicon Alleys: George Best
Since Metro's gift guide issue this year has a sports theme, Alleys recommends a trilogy of books that the late Best himself authored, all ghost writers aside.
Technology News: Stupid new holiday gadgets
If you are the registered owner of the media, you are permitted to play it. If you aren't, it's deleted from your device, and your transgression is reported to the central media certification authority.
Sports News: Pete Newell Challenge
Basketball icon Pete Newell brings his Newell Challenge to the HP Pavilion this weekend.
Style: Holiday gift giving
Follow Joseph Rosenfeld's simple guidelines for giving and you'll have a fun, guilt-free holiday.

Movie Review: 'Shut Up and Sing'
Barbara Kopple's latest documentary tracks the fallout from the Dixie Chicks' modest demur.
Movie Review: 'Tenacious D: The Pick of Destiny'
Jables and Kage's movie is a pipe dream for fans.
Movie Review: 'The Nativity Story'
The glummest story ever told.
Movie Review: This Week's Revivals
Silent kill: The 1927 silent version of 'Chicago,' 'Captain from Castile' and more.

MORE MOVIE REVIEWS

MOVIE TIMES

Music Review: Nicole Willis and the Soul Investigators and the 1973 'Wicker Man' soundtrack
A random sample of great albums you may have missed.
Music Preview: Day One Symphony
A brush with death; a triumphant return.

MORE MUSIC AND NIGHTLIFE

MUSIC AND CLUBS LISTINGS

MUSIC AND NIGHTLIFE CALENDAR PICKS

Restaurant Review: Cocoa Bon Fine Chocolates, Andy's Orchard and Dittmer's Gourmet Meats & Wurst House
Holiday cheer plus bacon. Yummers!
Silicon Veggie: Readers' recommendations
This month, the Veggie shares some restaurants that local vegans rely on.
5 Things to Love: Winter fruits
Just because it's cold outside doesn't mean you have to stop eating fruit.

BOOK A RESTAURANT RESERVATION

FIND A RESTAURANT REVIEW

Book Review: 'Walt Disney: The Triumph of the American Imagination'
A new biography and screenings of early cartoons display Uncle Walt's artistic and business innovations.
Visual Arts Review: 'Was and Is Not and Is to Come' by Darren Waterston
An apocalyptic vision on the walls of the San Jose Institute of Contemporary Art.
Stage Review: 'A Christmas Twist'
City Lights ties Charles Dickens up in knots for holiday comedy.
Stage Review: 'Christmas Dreamland'
The costumes and sets fill the stage with delights at AMTSJ's Christmas production.

Letters to the Editor
November 29-December 5, 2006.