March 28-April 3, 2007
home | the papers | metro silicon valley test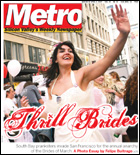 Brides of March
Reckless San Jose youth assault unsuspecting San Franciscans and tourists in the streets! Mockery of the sacred institution of marriage ensues! Lock up your potential grooms and see Felipe Buitrago's photographic evidence.

Chain reaction
Coffee is a battlefield for local independents battling new competition from chains. Do consumers win?
The Fly: 03.28.07
For those about to rock, we salute you.
Pink Pistols
The LGBT movement declares their right to bear arms in San Jose.

Silicon Alleys
The Improv goes nuts.
Technology news
Barack's YouTube ad begs the question: Is a politician like an old Mac? And is that a good thing?
Sports news: Major League Soccer
The Mexican national soccer team takes on Ecuador at the Oakland Coliseum.

Movie review: 'The Situation'
Philip Haas's film shows a country war-torn and a journalist lovelorn in Iraq.
Movie review: 'The Lookout'
Writer-director screenwriter Scott Frank's newest is one of the most involving dramas of the year.
Movie review: 'Meet the Robinsons'
Restless antics wear out our hopes for futuristic animation.
Cult Leader: 'The Hills Have Eyes'
Hansel and Gretel vs. mutants in 1977 cult shocker.
This week's revivals
The Colbert rapport: Claudette Colbert and Warren William in 'Cleopatra' at the Stanford.

MORE MOVIE REVIEWS

MOVIE TIMES

Booker T. Jones
The multi-instrumentalist brings his distinctive rhythm & blues to Redwood City.
Music Picks
South Bay Guitar Society Solo & Ensemble Festival, Los Aterciopelados and classical-music highlights.
Metroactive Club Newsletter
De La Soul, Sevendust, Bobbi Billard, Dwele & Go-Go Pros.

MORE MUSIC AND NIGHTLIFE

MUSIC AND CLUBS LISTINGS

MUSIC AND NIGHTLIFE CALENDAR PICKS

Restaurant review: Chalateco
Their pupusas are among their unusual offerings.
Live Feed
Hands off that grape.
5 Things to Love
Food sites with attitude.

BOOK A RESTAURANT RESERVATION

FIND A RESTAURANT REVIEW

Visual arts: Jess
San Jose Museum of Art showcases the collages and paste-ups of this Bay Area artist.
Stage: 'Voluntary Amnesia'
Three women struggle to break free of depression.
Stage: Shaolin monks at the Festival of Culture
A rare opportunity to experience Chinese martial arts close to the roots.
Cesar Chavez Month
A month-long celebration begins this weekend at the Mexican Heritage Plaza in San Jose.
Book review: 'The Last Mughal—The Fall of a Dynasty: Delhi, 1857'
Book authored by William Dalrymple.
Book review: 'John Evelyn: Living for Ingenuity'
Book authored by Gillian Darley.

Letters to the Editor
March 28-April 3, 2007.