04.02.08
home | the papers | metro silicon valley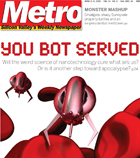 Bot in the Crossfire
Nanotechnology could one day clean your house and fix your brain. But paranoia about the new technology—a 'gray goo' apocalypse—is rampant. The truth about the pros and cons may be in-between, but it doesn't help when scientists bring David Hasselhoff into it.

Private Business, Public Interest
If there is such a thing as an enlightened business group, Silicon Valley Leadership Group could be the prototype
The Fly: 04.09.08
San Jose Medical Center, Nora Campos and the VTA train wreck

Silicon Alleys
Paging Silicon Valley
Technology News
Are we ready for transgendered pregnant dads?
Events
Shakespeare on the Square
Sporting Events
The New version of the San Jose Earthquakes
Kids Events
Children of the Dragon festivities at the Children's Discovery Museum

Movie Review: 'Street Kings'
Keanu Reeves tries to survive the mean streets of the LAPD
Movie Review: 'Smart People'
Dennis Quaid plays a professor with a dysfunctional family
Movie Review: 'Shine a Light'
Martin Scorsese's 'Shine a Light' captures the exuberance of a Stones show but doesn't reach greatness
Movie Review: 'The Duchess of Langeais'
Jacques Rivette's 'The Duchess of Langeais' ups the ante on an aristocratic flirtation
Movie Preview: 'No Borders, No Limits'
Sixties Japanese gangster cool at Yerba Buena Center

Irish Prog
Hayes and Cahill take a progressive approach to Irish music
This Week's Music Picks
The Huxtables, Rasal Flatts and Tech N9ne

MORE MUSIC AND NIGHTLIFE

MUSIC AND CLUBS LISTINGS

MUSIC AND NIGHTLIFE CALENDAR PICKS

A Place To Ray
Lost Los Gatos mainstay reopens in Willow Glen
5 Things to Love
Edible Bugs
Live Feed
Chains that Rock

BOOK A RESTAURANT RESERVATION

FIND A RESTAURANT REVIEW

Stage Review: 'Hero'
Teatro Visión looks at home-front life in the Iraq era
Stage Review: 'Blade to the Heat'
San Jose Stage Company's boxing drama charges ahead
Stage Review: 'Caroline, or Change'
A black maid and a young boy sing about life lessons in TheatreWorks production
Books: 'Teach the Free Man'
Peter Nathaniel Malae of Santa Clara explores prison life in short-story collection
Classical Concerts
Weekend of April 11-13
Art Preview
Artists preserve lemons and memories this Saturday at San Jose Institute of Contemporary Art
DVD Review
The Mist
DVD Review
There Will Be Blood
DVD Review
Bonnie and Clyde

Letters to the Editor
April 9-15, 2008