August 22-28, 2007
home | the papers | metro silicon valley
Best of Silicon Valley 2007 Reader's Poll
Vote online for the best food, drink, retail, arts and entertainment in the South Bay. Click here to vote.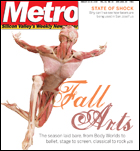 2007 Fall Arts Issue:
Intro | Body Worlds | Music | Stage | Performing Arts | Visual Art | Classical | Film | Festivals

State of shock
The national taser discussion is a joke, but no one's laughing. In Silicon Valley, at least, there's a search for real answers.
The Fly: 08.22.07
Invasion San Jose.

Silicon Alleys
Grading the curves of Monte Sereno.
Technology news
WikiScanner reveals the truth about anonymous editors.
Sports news
San Jose Giants.
Style
Time to discover ties.

Movie review: '2 Days in Paris'
Julie Delpy's directorial effort reworks Woody Allen's anxious comedy style in the City of Lights.
Movie review: 'The Nanny Diaries'
Although it's presweetened, it still delivers some child-care wrath.
Movie review: 'The Devil Came on Horseback'
It doesn't flinch from the horrors of Darfur.
This week's revivals
'Creature from the Black Lagoon,' outdoor 'Rocky Horror' and 'Some Like It Hot.'

MORE MOVIE REVIEWS

MOVIE TIMES

Second act
Fingerpicking maven Bert Jansch enjoys a late-career reappraisal.

MORE MUSIC AND NIGHTLIFE

MUSIC AND CLUBS LISTINGS

MUSIC AND NIGHTLIFE CALENDAR PICKS

The little Sichuan that could
Tracking down Fremont's rare Chinese regional cuisine.
Live Feed
Is it safe to go back in the water?
5 Things to Love
Great summertime wines.

BOOK A RESTAURANT RESERVATION

FIND A RESTAURANT REVIEW

Curtain call
Poignant and absurd, Shakespeare Santa Cruz's 'Endgame' marks the departure of Paul Whitworth.
Taking the Bard's measure
Arclight Rep finds revelations in a problem play.
Cat and crow
Traveling Jewish Theatre does Malamud twice in 'Jewbird' and 'The Magic Barrel.'
Kids events
The BMX Extreme Team at the Ringling Brothers & Barnum and Bailey Circus.

Letters to the Editor
August 22-28, 2007.