10.31.07
home | the papers | metro silicon valley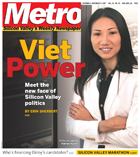 New Power Generation
Behind the fight over Little Saigon is the story of the Vietnamese-American community's newfound influence in Silicon Valley politics.

Gilroy's Cash Politics
A pattern of anonymous donations casts a shroud of secrecy over the financing of next week's election.
The Fly: 10.31.07
Fox Hunt, Elections—Not Just for 2008 & Palms Down.

Silicon Alleys:
Do the Jitterbook
Technology news
Consumer biotech just might let us play with our genes at home
Style
The Razor's Edge
Sporting Events
Metro Silicon Valley Marathon
Kids Events
'Go, Diego, Go Live—The Great Jaguar Rescue,' a stage version of the Nick Jr. show, is presented by American Musical Theatre of San Jose and plays Nov. 1–4 at the San Jose Center for the Performing Arts.

Review: 'Jimmy Carter Man From Plains'
A new documentary tracks the ex-president
Review: 'American Gangster'
Denzel Washington and Russell Crowe try to re-invent 'The Godfather'
Review: 'Bee Movie'
Jerry Seinfeld gets cute
Review: San Jose Jewish Film Festival
Documentaries and features screen this week at Camera 12 in San Jose
Preview: Niles International Silent Film Festival
The silent era lives in Niles
Interview: Luis Valdez
Honored at Latino Film Festival
Review:
This week's movie revivals
Cult Leader:
H.G. Lewis in the Bay Area with one of his best

MORE MOVIE REVIEWS

MOVIE TIMES

Godless Folk
Mason Jennings treads the awkward spiritual path
Alone in Their Rooms
Oddball artists Mingering Mike and Beirut draw inspiration from copious time spent alone
This Week's Music Picks
Architecture in Helsinki, Brand New, Miley Cyrus & Ravi Shankar

MORE MUSIC AND NIGHTLIFE

MUSIC AND CLUBS LISTINGS

MUSIC AND NIGHTLIFE CALENDAR PICKS

The Tortas And the Flair
In praise of an underappreciated Mexican delicacy
Live Feed
Chez T.J. Sees Stars
5 Things to Love
Luxury Restaurants

BOOK A RESTAURANT RESERVATION

FIND A RESTAURANT REVIEW

Salman Rushdie
'Satantic Verses' author to speak at SJSU Nov. 8
Classical Preview
Mission Chamber Orchestra, Nov. 3; South Bay Brass, Nov. 4; SF Symphony Family Concert, Nov. 3
Classical Review
Pianist Seymour Lipkin shined at Symphony Silicon Valley concert Oct. 28
Stage Review: 'Visitor's Guide to Arivaca'
Teatro Visíon checks the border dispute
Stage Review: 'Malcolm and Teresa'
A lefty meets a saint in Quo Vadis production in San Jose
Stage Review: 'Three Tall Women'
Mountain View's Pear Avenue does Edward Albee drama
Books: 'The Sabotage Café' by Joshua Furst
Reviewed by Richard von Busack
Books: 'Google and the Myth of Universal Knowledge' by Jean-Noël Jeanneney
Reviewed by Michael S. Gant

Letters to the Editor
October 31-November 6, 2007.