02.27.08
home | the papers | metro silicon valley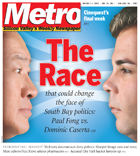 Some Assembly Required
The District 22 Assembly seat has shaped Silicon Valley's political face during Sally Lieber's headline-grabbing tenure. The Democratic primary battle between Paul Fong and Dominic Caserta to replace her is a fight over whether or not this area is ready for a huge political shift.

Deal or No Deal
The cost-effectiveness of taking cases to court may change how the county deals with lawsuits it was once eager to settle
The Fly: 03.05.08
All a Board, Hollywood or Bust, It's Easy Being Green and The Best Defense

Silicon Alleys
Wrestling With Suburbia
Technology News
In a few years you won't need a computer
Events
'Stand Up for Humanity,' put on by Clownshoe Entertainment
Sporting Events
The PAC-10 Tournament
Kids Events
Children's Musical Theater San Jose brings Robert Louis Stevenson's famous chiller thriller 'Jekyll & Hyde' to the stage this weekend.

Cinequest Review
'On the Doll'
Cinequest Maverick Interview
Danny Glover
Film Review
'CJ7', martial arts fun for kids from Stephen Chow

Naked Elegance
Motif Lounge shows off its subtle flair
This Week's Music Picks
The Odd Numbers, Living Legends and Blues Guitar Extravaganza

MORE MUSIC AND NIGHTLIFE

MUSIC AND CLUBS LISTINGS

MUSIC AND NIGHTLIFE CALENDAR PICKS

International Flight
The closest you can legally get to Cuba in Silicon Valley is a trip to Japantown
5 Things to Love
Restaurants in Mountain View
Silicon Veggie
Are You Being Served?

BOOK A RESTAURANT RESERVATION

FIND A RESTAURANT REVIEW

Stage Preview
Looking forward to a new season of new risks at Ashland
Stage Review
Filbert Steps production 'All My Sons' explores Arthur Miller's family drama
Stage Review
Tabia sets to 'Shakin' the Mess Outta Misery'
Classical Preview
The best concerts for March 5-12
DVD Review
Hitman
DVD Review
South Park: ImaginationLand
DVD Review
Joan Crawford Collection, Vol. 2

Letters to the Editor
February March 5-11, 2008