June 6-12, 2007
home | the papers | metro silicon valley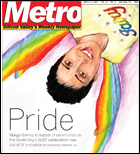 Gay Pride Festival:
How the South Bay's Pride celebration found its own identity. Also, an interview with Marga Gomez, and everything you need to know about where to be when.

Out of service
A brutal audit shook up the VTA, but it missed problems that affect millions of dollars in funding.
The Fly: 06.06.07
Jeppesen On Trial.

Silicon Alleys
In praise of Meridian and Hamilton.
Technology news
Who decides who's notable enough for picky Wikipedia?
Sports news
Velo City Tour.
Style
The new eco-fashion.

Movie review: 'Paprika'
The only superhero who matters this summer.
Hot shorts
The Ann Arbor Film Festival brings 30 of its short films to Foothill College.
Cult Leader: 'Bug'
Buggin': The problem with movies that witness madness.
This week's revivals
The Stanford's Katharine Hepburn festival continues.

MORE MOVIE REVIEWS

MOVIE TIMES

Pride and joy
S.J. Pride's pre-party christens a brand-new downtown GLBT club.

MORE MUSIC AND NIGHTLIFE

MUSIC AND CLUBS LISTINGS

MUSIC AND NIGHTLIFE CALENDAR PICKS

Chef on fire
Mike Miller is at the peak of his powers with Los Gatos' Trevese.
Silicon Veggie
Meatless little lies.
5 Things to Love
Great food mags.

BOOK A RESTAURANT RESERVATION

FIND A RESTAURANT REVIEW

Manga man
The Asian Art Museum salutes the art of manga master and Astro Boy creator Tezuka Osamu.
Buzz stop
San Jose Stage takes a trip to the '60s in 'Beehive.'
Irene Dalis Vocal Competition
San Jose opera contest picks vocal champs.
Left-wing behind
John Shirley dives into 'The Other End' in new sci-fi novel.
Book review: 'Varieties of Disturbance'
Book authored by Lydia Davis.
Book review: 'Everything Is Miscellaneous: The Power of the New Digital Disorder'
Book authored by David Weinberger.
Kids events
Flapjacks & Railroad Tracks.

Letters to the Editor
June 6-12, 2007.