August 2-8, 2006
home | the papers | metro silicon valley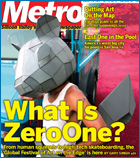 Feature: What Is ZeroOne?
From human squirrels to high-tech skateboarding, the 'Global Festival of Art on the Edge' is here.
ZeroOne Guide
For proof that ZeroOne encompasses more activities than even a cyberized Clement Greenberg could possibly comprehend in seven days, check out our extensive grid of days, names and places.
The ZeroOne Program: Seven Days of Art and Interconnectivity
Welcome | Let's Go ZeroOne San Jose | Performances | Cinema | Events | Get Your Learn On! | Participate! | People's Choice Award | Map | Featured Exhibits | Exhibits | Staff

News: San Jose Pool Shortage
Could there be any worse time for a pool shortage?
The Fly: 08.02.06
Check out the ginormous catering bill our hard-working public servants ran up at the San Jose Grand Prix.

Silicon Alleys: CADRE
A look back at SJSU's CADRE Laboratory for New Media during the mid-'90s.
Technology News: Superrodents
Imagine genetically engineered, supertame, superskinny, super-long-lived, nonbreeding rats. Or humans. Science says we can do it!
Car Culture: Novella Carpenter says good-bye
Rev retires after four good years.
Sports News: San Jose Grand Prix
The Grand Prix proved that 'more than a race' barely cuts it as a motto anymore.

Movie Review: 'The Descent'
Female spelunkers battle grumpy Gollums deep underground in Lions Gate's latest horror flick—a cut above 'Saw.'
Movie Review: 'The Night Listener'
Robin Williams is the sanest person in 'The Night Listener'—how weird is that?
Movie Review: 'Little Miss Sunshine'
The plot is typically Sundancian—take a fractured family to the desert and bond them—but directors Jonathan Dayton and Valerie Faris work harder on the comedy than the bonding.
Cult Leader: 'Anchorman: The Legend of Ron Burgundy'
Thick As a Brick: The cult of 'Anchorman.'
Movie Review: This Week's Revivals
Grabthar's Hammer Time: 'Galaxy Quest,' 'Ninja Turtles' and more.

MORE MOVIE REVIEWS

MOVIE TIMES

Music Preview: NUFAN
Tony Sly has no use for an alibi when solid records will do.
Show Review: Corinne Bailey Rae
When will Americans accept a long-term relationship with a British soul singer?
Festival Review: Music@Menlo
David Finkel and Wu Han drive Music@Menlo through a powerful and focused fourth year.

MORE MUSIC AND NIGHTLIFE

MUSIC AND CLUBS LISTINGS

MUSIC AND NIGHTLIFE CALENDAR PICKS

Restaurant Review: Willow Glen Frozen Yogurt Co., Yagoz Gelato and Dolce Spazio Dessert Cafe
Ice cream is a great way to beat the heat, and around here there's no shortage.
Silicon Valley Veggie: Casa Lupe
Stop in and visit your local Mexican restaurants, like Casa Lupe in Campbell.
5 Things to Love: Places to Eat And Chill Out
Five chilly suggestions for when the next heat wave strikes..

BOOK A RESTAURANT RESERVATION

FIND A RESTAURANT REVIEW

Visual Arts Review: 'Edge Conditions'
A new San Jose Museum of Art exhibit surveys state of tech-driven art in time for ZeroOne.
Stage Review: 'Restoration Comedy'
Stanford Summer Theater stages Amy Freed's witty 'Restoration Comedy' pastiche.
Stage Review: 'Annie Get Your Gun'
Foothill Music Theatre updates the Old West of 'Annie.'

Letters to the Editor
August 2-8, 2006.