11.26.08
home | the papers | metro silicon valley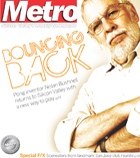 The Poet of Play
Silicon Valley's first celebrity entrepreneur Nolan Bushnell is once again at the intersection of technology and pop culture, trying to bounce back like a pixel cluster off a pong paddle.

Morning in Obamaland
Silicon Valley Obama 'movement' takes a new direction—local races and issues
The Fly
Silicon Valley News Notes

Silicon Alleys
The Poet Game
Sports
Punch Drunk
Kids
The giant inflatable Batman is just one of the many fanciful bounce houses now open for kids to jump themselves silly at the brand-new Bounce A Rama location at the Great Mall in Milpitas. The fun extends to a games zone and a pizza menu. The store opened Nov. 22 and is celebrating that fact all month long.

Movie Review: 'Australia'
Hugh and Nicole travel the outback in Baz Luhrmann's epic
Movie Review: 'Slumdog Millionaire'
A Mumbai street kid knows all the answers in Danny Boyle's new feature
Movie Review: 'Beauty in Trouble'
A woman tries to move home in Czech drama
DVD Review: 'Bill Douglas Trilogy'
A new collection highlights Scottish director's short, honest films about growing up hard
DVD Review: 'Chaplin'
An anniversary edition of Robert Downey, Jr.'s biopic includes making-of extras and Chaplin home movies
DVD Review: 'Thomas Kinkade's Christmas Cottage'
So heart-warming your aortas will boil over

MORE MOVIE REVIEWS

MOVIE TIMES

Special F/X
Former F/X owner Fil Maresca reconvenes the counterculture
Music Picks
Andre Nickatina, Hot for Teacher and Vicente Fernandez

MORE MUSIC AND NIGHTLIFE

MUSIC AND CLUBS LISTINGS

MUSIC AND NIGHTLIFE CALENDAR PICKS

Talking Turkey
Bodrum Cafe blends East and West
Live Feed
E Pluribus Yum
The Wine Column
Gold on Summit Road

BOOK A RESTAURANT RESERVATION

FIND A RESTAURANT REVIEW

Art Review: 'Durer to Picasso' at Stanford
Stanford shows off its best new art finds
Stage Review: 'Every Christmas Story Ever Told'
San Jose Stage Company puts the hilarity back in the holidays
Stage Review: 'Rapunzel'
City Lights plays fast and funny with familiar fairy tale

Letters to the Editor
November 26 - December 2, 2008