October 25-31, 2006
home | the papers | metro silicon valley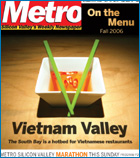 Vietnamese restaurants
Our Fall 2006 On the Menu section takes a look at the South Bay's Vietnamese restaurants.
Indian cuisine
One chef's mission to crack the mysteries of cooking Indian—and the South Bay secrets that showed her the way.
Meal-prep centers
Why they're sweeping the valley.

News: California's new cable legislation
As San Jose hosts a community-media conference, it's become clear that the state's new cable legislation has hidden costs for consumers.
The Fly: 10.25.06
Why was Mountain View City Councilmember Michael Kasperzak so eager to have his colleagues vote on a resolution opposing Proposition 90?
Election Endorsements
Dolores Carr for DA, yes on Measure A, no on Prop. 90.

Silicon Alleys: San Jose's lack of an identity
Although San Jose has gargantuan potential for blossoming into a serious world-class city, the majority of its citizens couldn't care less.
Technology News: 'CSA: The Confederate States of America'
This faux documentary is even more chilling on DVD.
Sports News: Metro Silicon Valley Marathon
Whoever thought that the marathon was just a race is sorely mistaken. In reality so much more will be going on.
Style: Breast Cancer Awareness Month
The greatest accessory, it turns out, isn't turbans or scarves; not even makeup. The greatest accessory for a woman with cancer is her attitude.

Movie Review: 'Beethoven's Hair'
The ultimate 'hair-loom' is traced from Beethoven's head to SJSU in documentary at San Jose Jewish Film Festival.
Movie Review: 'Running With Scissors'
Annette Bening runs riot in 'Nip/Tuck' creator Ryan Murphy's big-screen directorial debut.
Movie Review: 'Conversations With God'
Because, in your heart, you know He's right.
Movie Review: 'Death of a President'
Faux documentary avoids scandal but never rises above its good intentions.
Movie Review: 'The Bridge'
Eric Steel's moody and beautiful documentary is emblem of San Francisco, and its last exit.
Film Festival Preview: U.N. Association Film Festival
The festival globe-hops to hot spots with five days of docs.
Cult Leader: Halloween viewing guide
Halloween, A to Z: A holiday viewing guide.
Movie Review: This Week's Revivals
Redrum, he wrote: 'The Shining,' 'The Nightmare Before Christmas,' 'The Ghost and Mrs. Muir' and more.

MORE MOVIE REVIEWS

MOVIE TIMES

Music Preview: Otto
Local rockers feed on intensity like a drug.
CD Review: The Killers, 'Sam's Town'
The band rolls the dice but comes up short on their new album.

MORE MUSIC AND NIGHTLIFE

MUSIC AND CLUBS LISTINGS

MUSIC AND NIGHTLIFE CALENDAR PICKS

Restaurant Review: Arcadia
Michael Mina retools his San Jose destination as a steakhouse, with impressive results.
5 Things to Love: Frightening foods
Hot Pockets didn't make the list, but bagged spinach sure did.

BOOK A RESTAURANT RESERVATION

FIND A RESTAURANT REVIEW

Stage Review: 'Moonlight and Magnolias'
San Jose Rep goes behind the scenes of 'Gone With the Wind.'
Stage Review: 'La Victima'
Teatro Visión's play follows generations of migration in one family.
Stage Review: 'Tomfoolery'
The sassy lyrics of Tom Lehrer get revived at the Theatre on San Pedro Square.
Book Review: 'The Best American Comics 2006'
Harvey Pekar and Anne Moore select dark and troubling tales in a superb new collection.
Book Review: 'Blind Into Baghdad: America's War in Iraq'
By James Fallows.
Book Review: 'Hubris: The Inside Story of Spin, Scandal and the Selling of the Iraq War'
By Michael Isikoff and David Corn.
Comic Book Review: 'American Splendor'
By Harvey Pekar.

Letters to the Editor
October 25-31, 2006.