February 7-13, 2007
home | the papers | metro silicon valley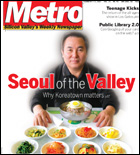 Koreatown
Santa Clara recently rejected a proposal to recognize it officially, but that doesn't stop Koreatown from being one of the best places in Silicon Valley to have a unique cultural experience. Check out our user's guide.

The web is the new public library
But who's going to own the books?
The Fly: 02.07.07
Wags around town are all aflutter about whether Nora Campos or Cindy Chavez will run next year for the seat of termed-out county Supe Blanca Alvarado.

Silicon Alleys: Gas Chamber Orchestra
They were the Andy Kaufmans of SJSU's music department for six years.
Technology news: GoDaddy
They act quickly to censor websites they don't like—just ask Fyodor Vaskovich about SecLists.
Sports news: SAP Tennis Open
Feb. 12 is the launch date for the open, which enters its 119th year and will be on all week at the HP Pavilion until only a handful of players are still standing.
Style: Lingerie
Underthings are a can't-miss Valentine's gift.

Movie review: 'Hannibal Rising'
Hello Clarice, I'm Hannibal's inner child.
TV review: 'Dracula'
The new BBC version lacks bite.
Movie review: 'Inland Empire'
David Lynch's tricky new movie shows us the future of film—and its tangled past.
Film festival preview: Cinequest 2007
The documentaries are often the best offerings.
Movie review: 'The Dead Girl'
Director Karen Moncrieff's follow-up to 'Blue Car' tells five stories about one victim.
Film festival preview: 'Film Noir and Other Classics'
A new noir series and other Hollywood treats at the Stanford Theatre in Palo Alto.
Cult Leader: True teen crime from 'Over the Edge' to 'Alpha Dog'
The 'JD' movie has a remarkable history stretching back to the bug-eyed camp of 'Reefer Madness.'
This week's revivals
It's guy love between two guys: 'Becket' at Camera 12.

MORE MOVIE REVIEWS

MOVIE TIMES

The Venue in Los Gatos
A new music spot opens for the younger set.
Musicbox
Our critics pick this week's highlights: Resistant Me, Octobop, TeleMongol, Swingin' Utters and a bunch of classical concerts.

MORE MUSIC AND NIGHTLIFE

MUSIC AND CLUBS LISTINGS

MUSIC AND NIGHTLIFE CALENDAR PICKS

Restaurant review: Neto
New cafe bakery is perfect for the Mountain View street that has everything.
Silicon Veggie
The Internet has become an incredible resource for prospective veg*ns (vegetarian/vegan), whether they're looking for recipes, nutritional information, humane products or inspiring stories.
5 Things to Love: Places to sit on the floor
Feeling low about Valentine's Day? Dine with a group of friends on cushions, low stools or tatami mats.

BOOK A RESTAURANT RESERVATION

FIND A RESTAURANT REVIEW

Stage: TheatreWorks' writers retreat
Marianne Messina visits the playwrights of the future.
Stage: 'Camelot'
Michael York makes you want to believe in 'Camelot' all over again.
Stage: 'Long Day's Journey Into Night'
San Jose Rep stages a brilliant revival of the Eugene O'Neill play.
Visual arts: 'Op Art Revisited: Selections From the Albright-Knox Art Gallery'
The San Jose Museum of Art samples the history of Op Art.
Book review: 'The Little Book of Plagiarism'
Book authored by Richard A. Posner.
Book review: 'Prime Green: Remembering the Sixties'
Book authored by Robert Stone.

Letters to the Editor
February 7-13, 2007.