September 20-26, 2006
home | the papers | metro silicon valley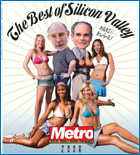 Best of Silicon Valley 2006:
Intro | The Short List | Campbell | Cupertino | Gilroy and Morgan Hill | Los Gatos | Milpitas | Mountain View | Palo Alto and Menlo Park | San Jose | Santa Clara | Saratoga | Sunnyvale | Willow Glen | Readers' Choice—Food & Sustenance | Readers' Choice—Love & Romance | Readers' Choice—Arts & Culture | Readers' Choice—Shopping & Services

News: 'Operation Safe Neighborhoods'
Palo Alto is on edge about the recent, heavily hyped crime wave. There's just one problem: the numbers don't add up.
The Fly: 09.20.06
One minute they're at each other's throats in one of San Jose's most competitive mayoral races; the next they're loitering in the shade together on a sunny afternoon. That's San Jose politics for you.

Silicon Alleys: Psychogeography
Part 2 of an an experiment in psychogeography.
Technology News: Chumby
This is a piece of consumer electronics in the most meaningful sense of that term. Consumers can do what they want with it.

Movie Review: 'Jet Li's Fearless'
Martial arts fiesta, plus a public service message from the People's Republic of China reminding you that dissent leads to weakness.
Movie Review: 'All the King's Men'
Robert Penn Warren meets Sean Penn (no relation) in a Southern tale of domestic fascism.
Movie Review: 'Flyboys'
Where was Snoopy when these dashing devil-dogs of the air needed him?
Cult Leader: '80s 'Twilight Zone'
Part 2 of Steve Palopoli's look back at one of '80s network TV's biggest flops.
Movie Review: This Week's Revivals
Where the devil are those slippers?: 'My Fair Lady' and uh, that's about it.

MORE MOVIE REVIEWS

MOVIE TIMES

Music Preview: Cirque du Soleil's 'Delirium'
A theatrical performance of favorite Cirque songs.
Music Preview: 5606
The San Jose band thrives on 'controlled mayhem' and the unpredictable future.

MORE MUSIC AND NIGHTLIFE

MUSIC AND CLUBS LISTINGS

MUSIC AND NIGHTLIFE CALENDAR PICKS

Restaurant Review: Andy's Bar-B-Que
The old rib joint returns victorious to Santa Clara.
Live Feed: Steakhouses
Silicon Valley is in the throes of a beef bonanza.
5 Things to Love: Sources for Good Portuguese Food
While most people would be hard pressed to name more than one Portuguese eatery, Silicon Valley has more than a few.

BOOK A RESTAURANT RESERVATION

FIND A RESTAURANT REVIEW

Stage Review: 'Angels in America'
From Mormons to valium to Roy Cohn, City Lights delves deep into Tony Kushner's epic.
Stage Review: 'Beehive'
The Palo Alto Players relive the sound of the '60s female pop stars.

Letters to the Editor
September 20-26, 2006.